This is the same recipe I have used for the past 20 years. It is broken down for home use.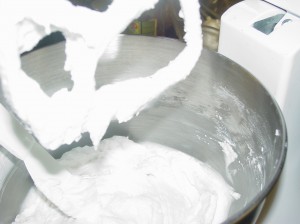 Ingredients:
Powder Sugar: 2 pounds sifted
High Ratio Shortening: 1 cup ( you can use Crisco as well but it is not as good as using high ratio shortening for stability and smoothness)
Salt 1/4 tsp
Water: approximately 1/2 cup. You may need a bit more but start with 1/2 cup
Butter Flavor 1/4 tsp
Clear Vanilla 1/4 tsp
Almond Flavor 1/8 tsp
Make Up Procedure:
Using a stand mixer, with the paddle hook, cream together the powder sugar and shortening.
Slowly begin to incorporate the water into the mix.
Add salt and flavorings.
Mix on high speed for about 5-7 minutes
Mix on low speed for approximately 10 more minutes." This will insure a smooth and fluffy yet stable decorators icing."
Watch The Video Here 🙂
NOTE… Please Disregard the Statement on the Video that says "I meant to say 1/2 cup… You Will Use,
1 Cup Shortening for 2lbs of Powder Sugar. If it is really warm in your kitchen or outside, you can cut back on the shortening a bit. Different elevations and temperatures can cause different outcomes if you are using the Crisco shortening. I still recommend High Ratio shortening for Cake Decorating purposes. It just holds better.
My Personal Recommendation For Stand Mixers!

Looking for High Ratio Shortening?
Want More Great Ideas?