This spooky spider cupcake is perfect for Halloween!
The cupcake is orange flavored and the icing is made with our professional cake decorators icing recipe.
The cute but spooky little eight legged crawler's body is made from a junior mint so you can eat him before he bites you! Muahahaha..
What you will need to create the Halloween Spider Cupcake:
1 box orange flavor cake mix for the cupcakes
1 large box of Junior Mints..You'll have extra to much on while creating your spider cupcakes 🙂
Orange Sugar Flakes
Cupcake Liners
Professional Cake Decorators Icing
Black Food Color
Red Food Color
Toothpick for the spider web
Parchment paper or featherweight pastry bag.
Tip # 2 if you are using a pastry bag. Otherwise I find it is better to use the parchment paper and cut a very small tip to pipe the legs and eyes.
Instructions:
Mix cupcake batter according to directions on the cake box.
Pre-heat oven to 350 degrees.
Bake for approximately 18 minutes.
Prepare professional cake decorators icing.
Decorating Instructions:
Start out by icing the top of your cupcakes.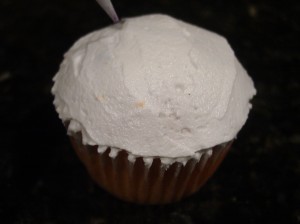 Start creating the spider web by drawing a spiral circle: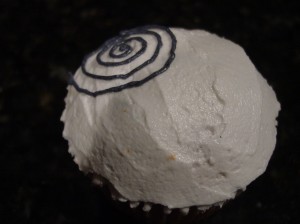 Take a toothpick starting from the center of the circle and gently pull the toothpick to the outer edges of the circle.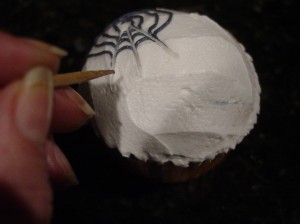 Place a Junior Mint off to the side of the Spider Web and start creating the Spooky Spider!
Create four legs on each side of the Spiders body using the black buttercream icing. Pipe on black dots for base of eyes and then use the red colored buttercream icing for the center of the glowing spider eyes..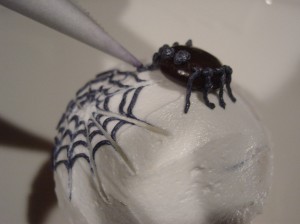 Finish off the Halloween Spider Cupcake by piping on some white fangs and sprinkling the orange colored sugar flakes on top!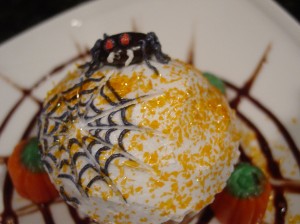 Have fun creating the Spider Cupcake! Also, feel free to leave comments!