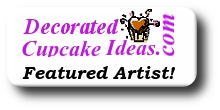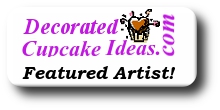 Wanna Be Featured On Our Site?
It's your time to shine as Decorated Cupcake Ideas "Featured Artist" Part of the mission is to give the spotlight to our fans and subscribers. If you would like to be featured on our site, send an email to:
jane@decoratedcupcakeideas.com
What we will need from you:
When you email us, put: "Featured Artist" in the subject line.
I want to be featured on Decorated Cupcake Ideas Website. I agree to give decorated cupcake ideas . com full rights to use my original photo's of my cupcakes I have decorated.
Don't forget to attach the cupcake photo or photo's for us to use. Also include a picture of yourself if you would like that posted as well.
Include a link you would like us to use. If you want us to get folks to your facebook page, include that link. If you have a website, give us that one.. You get the idea.
Tell us how you made your cupcakes and how long you have been decorating cakes and cupcakes.
Want More Great Ideas Sent To Your Email?