Pirate themed cupcakes are the all the rage right now with the new Pirates of the Caribbean movie coming out.
Your own little pirate or princess will love having these cupcakes for their birthday party or just for fun.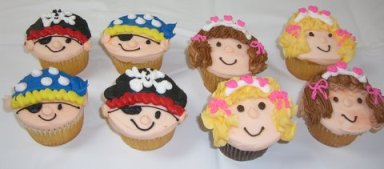 These cupcakes with the pirate and princess theme are another work of art sent in by Jamie Cappelletti of Creations Bakery in Forsyth County, Ga.
The colors are so vivid and the faces on the pirates and princesses are happy and joyful.
Who wouldn't love these edible works of cupcake art?
Whats great about these are you can make them from buttercream by piping all the features or by using your fondant skills. Shown here, It looks like they have been piped with colorful buttercream icing.
We also found a really fun cupcake ideas from our youtube pal Yoyomax on how to make a treasure chest to go along with the pirates and princesses. You can use this idea and run with it from a creative point of view. I think filling the treasure chest with gold coins would be fantastic…



Want more fun cupcake ideas sent to your email?