Awesome Orange Cake Cupcakes You'll Drool Over!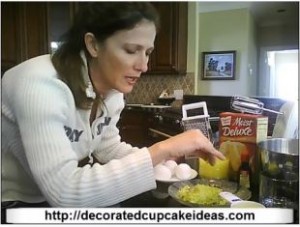 There are quite a few recipe's for the tasty orange cake and cupcakes but I put one together that just rocks! I tested several orange cake batter recipe's and came up with my own little twist to one so I titled them the ORANGE CUPCAKES THAT ROCK…
Here you will get the ingredients I use for the recipes as well as a video I did to show you how to make them.
I also filled the orange cupcakes with an orange flavored pudding mixed with my pro cake decorators icing and then topped them off with orange flavored icing. YUMMY!
I hope you and your family will enjoy making these as much as I do. They really do rock 🙂
What you will need:
1 box orange cake mix. (Duncan Hines Has the Orange Cake Mix in Most Grocery Markets)
3 eggs
1/4 cup oil
1 cup orange juice
1/4 cup water
Orange zest from one whole orange
1/4 tsp orange extract ( You can use just a bit more but be careful with it. Taste as you go)
Cupcake Pans and Liners
How To Blend The Orange Cupcakes:
Start by pre-heating your oven to 350 degree's
In large mixing bowl, combine orange cake mix, eggs, oil, orange juice and water.
Mix for about 2 minutes. Add the orange zest and orange extract.
Tip 1: Let your orange cake batter sit for about ten minutes before popping in the oven. This will help give the batter a bit more jump.
Tip 2: When measuring out your cupcakes, use a 1/2 cup measuring cup. This will be perfect for the height and weight of your orange cupcakes and any other cupcakes you make 🙂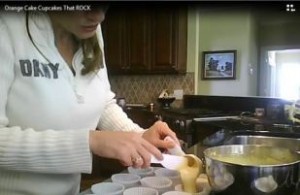 Bake for approximately 18-20 minutes depending on your ovens calibration.
Let cool and while preparing your orange filling.


How to make the Orange Cream Filling:
Mix one small pack of instant vanilla pudding per manufacturers instructions.
Incorporate in the zest of one whole large orange.
Mix in approximately 2 cups of pro cake decorators icing, 1/2 tsp orange flavor and a bit of orange food coloring.
The consistency will look broken down. This is normal. Refrigerate until ready to fill your orange cupcakes.
How to Fill the Orange Cake Cupcakes:
Using a #2 cake decorators tip, punch out a hole in the center of the orange cupcake. You will need to give it a little twist to extract the hole out.
Using a piping bag fill the center hole with the orange cream filling.
Finishing The Cupcake With Orange Flavored and Colored Icing.
For this orange cake cupcake I used the professional cake decorators icing and flavored it with orange extract. I also used orange food coloring and orange sugar crystals to embellish. EASY PEASY:)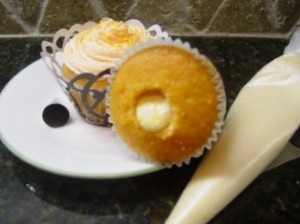 The cupcake wrap is a Wilton product. Wilton Cupcake Wrappers – Swirls
Here is the Video for the Orange Cake Cupcakes That Rock!

Want More Great Ideas?[like url=http://decoratedcupcakeideas.com/orange-cupcakes-that-rock/]