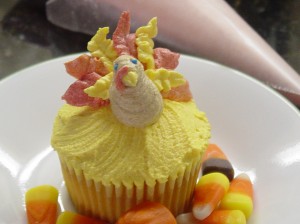 Turkey Cupcakes You Will Gobble Up!
Here come the fun holidays with great cupcake ideas for them. Thanksgiving is such a warm and wonderful time for family gatherings and thoughts of gratitude.
I am personally thankful this year to be able to share my knowledge in cake decorating with you all as well as learn from so many of you that visit this site.
In today's lesson we will be creating fun and tasty cupcakes with cute turkeys figure piped on them.


Here is what you will need to figure pipe the turkeys for your awesome Thanksgiving treats!
Professional Cake Decorators Icing
For the Turkey Cupcakes Feathers, Beak and Waddle:
For The Turkey Cupcake Body: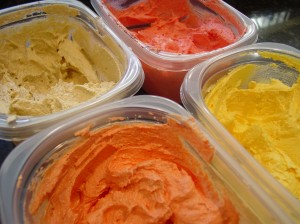 For The Turkey Cupcakes Eyes:
How To Decorate The Figure Piped Turkey Cupcakes:
Start out by icing your cupcake any color you like. For these turkey cupcakes I used yellow icing for the base.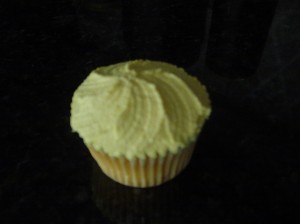 Next, place a mini vanilla wafer on top of the cupcake by pressing the rounded edge into the icing. The nilla wafer will be the base that you will pipe the turkey cupcake feathers on.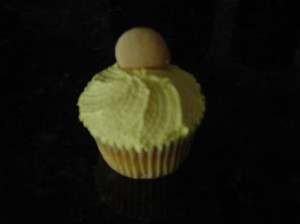 After placing the nilla wafer on the cupcake you will start piping on the turkey cupcake feathers using a leaf tip. You can use either a cake decorators leaf tip or simply cut one out using scissors as shown here. I used wax paper for this. You can also use parchment paper or a plastic baggie if you wish.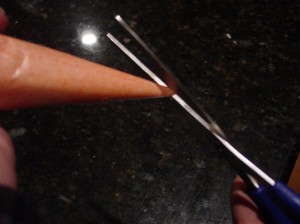 Using medium pressure begin to create the turkey feathers starting from the base of the nilla wafer. Alternate colors for the feathers.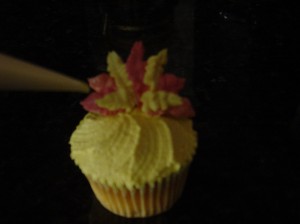 After you have piped on the turkey feathers, start piping the body of the turkey using the brown colored icing. You can either use a round piping tip or simply cut a medium size hole in the bottom of your filled bag.
Use medium pressure starting at the base of the turkey feathers, keeping the bag held in place and slowly moving the filled bag upward. "If you pull the bag up too fast your turkey will be skinny"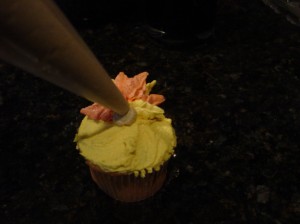 Pipe about 1/4 of an inch for the turkey body and then add just a small amount of pressure again without stopping for the head and beak base. You will use a slight up and then angled down motion to complete the turkeys body and head.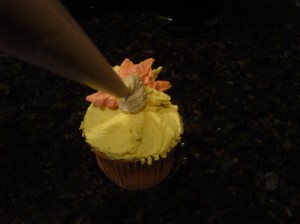 Using the yellow icing with leaf tip, create the beak. Use the red icing with a small piping tip or cut out tip for the waddle.
Gently press in either blue or green colored sprinkles for the eyes.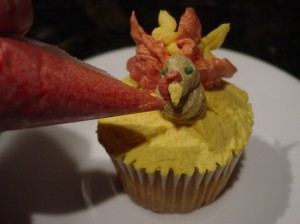 Watch The Video Here!
Want More Great Ideas?