Butterfinger Cupcakes With Crushed Butterfingers On Top.
Simple, Easy, Delicious!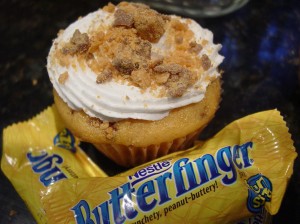 Wondering what to do with those left over butterfingers from Halloween? You got it; Butterfinger cupcakes! These are almost too easy to make and are so yummy nummy for your tummy.
What you need for the Butterfinger cupcakes:
1 box of cake mix. " I used orange flavored cake mix for these. It just gives the butterfinger cupcake and extra little kick in the cupcake:)
3 eggs
1/3 cup oil
1 and 1/4 cup water
cupcake liners
cupcake pan
cake decorators icing
large baggie
approximately 10 butterfinger miniature candies
mallet or rolling pin to crush the butterfingers.
Directions for the Butterfinger Cupcakes:
Prepare cake mix per manufacturers instructions.
Unwrap butterfinger candies and place in large baggie.
Using a mallet or rolling pin, crush the butterfinger candies to desired consistency.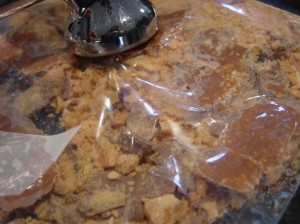 Pour crushed butterfinger candies into your cupcake batter and mix just until blended.
Pour batter into cupcake pans. I use a 1/2 measuring cup for consistent size and weight of each cupcake.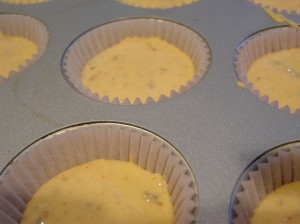 Bake in pre-heated oven at 350 degrees.
Prepare cake decorators icing and ice top on each cupcake with star tip or however you wish to ice your cupcake.
Sprinkle reserved crushed butterfinger candies over the top of each cupcake.
Easy!
Here's a close up shot of the butterfinger cupcake for you:)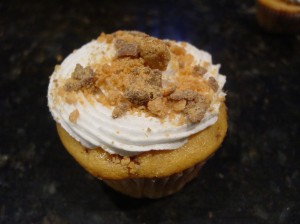 Want More Great Ideas?