Image via Wikipedia
I LOVE VALENTINES CUPCAKES![like url=http://decoratedcupcakeideas.com/valentine-cupcakes-ideas]
Valentine cupcakes are always fun to create. You have so many options to choose from when it comes to designing your little sweetheart treats. Anything from fun kid cupcakes to elegant cupcakes that say I Love You to your Valentine sweetie.


I found tons of great heart shape cupcakes, fondant bow cupcakes and chocolate dipped heart cupcakes to name a few. Big cupcakes and small cupcakes.
The Valentines day cupcakes are some of the easiest to create, since there is such a great selection and variety of Valentine heart shapes and Cupid candies to embellish your cupcakes with.
I found a really cool Valentine cupcake idea for the Giant cupcakes and also the the giant cupcake silicon baking pans that were used for them. The Gigantic cupcake silicon pans are a lot less expensive than the aluminum ones. They are also a little easier to get the baked cupcake out of it after baking. I like the fact that you also get the two for one. I will be doing a full set of different designs using the giant cupcakes this year!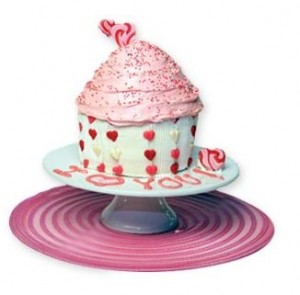 Here is the link to the page for the Big Cupcake Silicon Pans 🙂
Don't forget to sign up to become a featured cupcake artist!
We will be having a contest on the best decorated Giant Cupcake for Easter!
Sign up for our newsletter to stay updated on contests and even more great cupcake ideas:)
Related articles