Simple Easy Cupcake Ideas By Wendy Paul:
If your looking for a great book on gourmet cupcakes, Wendy Paul has nailed it down with easy to find ingredients. This is a terrific book of cupcake flavor and icing ideas. While it is from my point of view geared toward those that want simple and easy, it is not really a book for the pro's out there.
Wendy has very easy, very simple recipe's in the book and are all based on using a box mix.
Personally I am very cool with box mixes.
This 101 Gourmet Cupcake book is available at Amazon and is at a very reasonable price.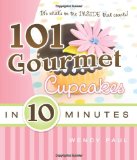 101 Gourmet Cupcakes in 10 Minutes
Here is a cute little video of Wendy Paul showing how to create the Rootbeer Float Cupcakes:
Wendy's book is filled with this type of cupcake creations. So if you are looking for really simple ideas. It's a good book at a good price. I have read all the reviews on it and only really saw one that was not good. Guess this gal does not like box mixes. If you do not like using box mixes, this is NOT the right book for you..
Get Updates On All Things Cupcake!