Denise Pandey: Featuring "The Napa Valley Cupcakes"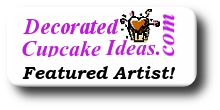 Napa Valley is a special place on earth that brings warmth and beauty to the soul.
Miles of heavenly grape vines paint the landscape and set the stage for some of the most incredible wine to be born. Denise Pandey's vision of the grapes and leafs are transferred on to a canvas of cupcake art. the colors are as warm as the sun that kisses Napa Valley.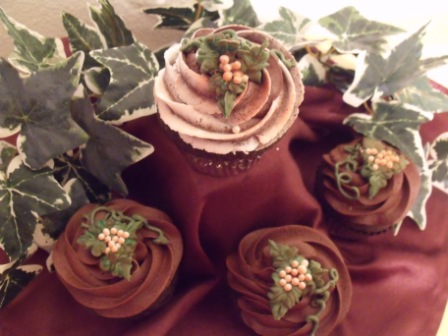 My first encounter with Denise was on our fan page where she posted her adorable snowmen cupcakes. I soon found that she had entered to be a featured artists here and just had to see more of her work.
Denise surprised us with a collection of really cool cupcake art and ideas she had come up with. The Napa Valley cupcakes stole the show with natural colors and true heart of a vision you can only get if you know Napa Valley.
Surprised once again with the flavoring of a Cream Sherry and Malt mixed in to the chocolate cake batter. Now were talkin' sister! The Buttercream icing is flavored as well.
I will definitely be testing this out in my own kitchen:)
Denise Pandey's Story:
I live in Beaverton, Oregon, but my home town is Napa, California.
I am married to Arun and have a beautiful daughter, Amber.

I've always wanted to learn the craft of decorating.  After 25 years of wishing to learn,  I finally began taking classes in Feb. 2010. I took classes at Michaels and graduated from all 3 Wilton Courses in July 2010.

I haven't been decorating long, but do bake and decorate something at least once a week.

One day I hope to have a flourishing "at home micro business" or at the very least, work in a unique bakery where I can design beautiful cakes and cupcakes
How Denise Created the Napa Valley Cupcakes:
These cupcakes are chocolate cupcakes, but I added 4 tablespoons of
Cream Sherry and 1/4 cup of malt to them.
The frosting is a combination of Chocolate frosting (and I added about 2
tablespoons of Cream Sherry to the chocolate, instead of milk) and a
vanilla butter cream frosting. I do this by packing my pastry bag with 1/2 chocolate and 1/2 vanilla.
I piped in vines and leaves and used white sprinkles for the "grapes". Then used Wilton Color Mist (A color spray) and sprayed the grapes in Red, which gave them a very natural coloring for grapes.
Here Are A Few More Cupcake Ideas From Denise!
You can also Visit Denise on Facebook! Go Here
Want More Great Ideas?