Yummy Red Velvet Cupcakes For Your Sweethearts!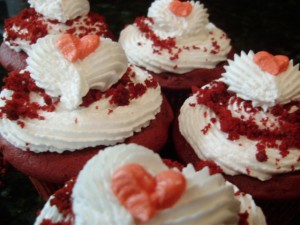 These sweetheart cupcakes are easy to create and just so pretty.
The Red Velvet cake used here is the Duncan Hines box mix. It is actually very tasty and moist. The only thing I do not love about it is when you make the crumbs for the top of the cupcake, your hands turn a bit red. No big deal though. You can always put some food safe gloves on.
Other wise, the cake mix is super yummy.
The icing I used on these cupcakes is the Pro Cake Decorators Icing. I considered using cream cheese icing but really wanted that bright white color so the red hearts would stand out a bit more.
How To Figure Pipe The Hearts For the Red Velvet Cupcakes:
Line up your pre-baked red velvet cupcakes.
Using the #22 cake decorating tip, fill your pastry or parchment bag with the professional cake decorators icing.
Ice the cupcake tops starting from the outer edge and move in a circular pattern to the center.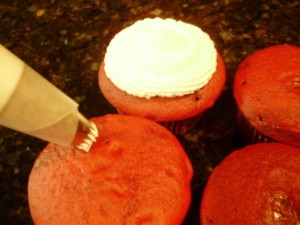 Next, using some red velvet cake crumbs, sprinkle on the tops of your iced cupcakes.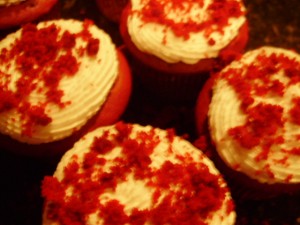 Start Figure Piping the hearts with the # 22 cake decorators tip. You will use the shell border technique. Pipe one shell to the right and one shell to the left to create the heart.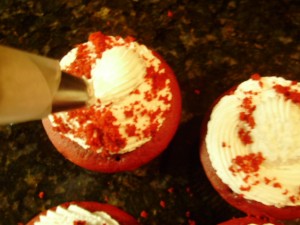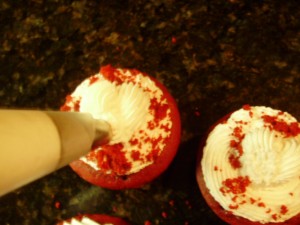 Next, take some red colored icing and pipe on a small heart in the center of the large heart shape. I usually just use some wax paper and cut the tip to the size I want. 🙂 You will use the same technique for the small heart as you did for the large heart.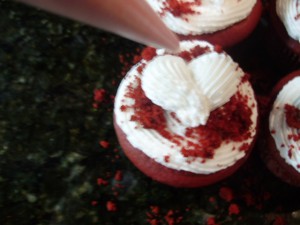 That's it! Your beautiful Red Velvet Cupcakes With Figure Piped Hearts for your Sweethearts are complete…


These red velvet cupcakes with hearts are great for Valentines day, Weddings, Anniversary or any occasion to celebrate love:)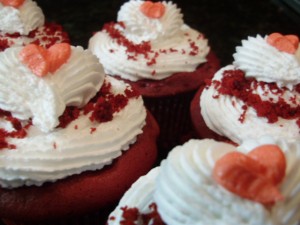 Want More Great Cupcake Ideas?