Oh the Valentine Cake Pops around here!
Annie Hockenberry shows off here style and detail in packaging her beautiful Valentine cake pops.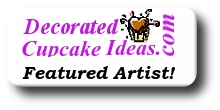 I love how she arranged the cake pops on the stand with the Valentine ribbon wrapped around the outer edges.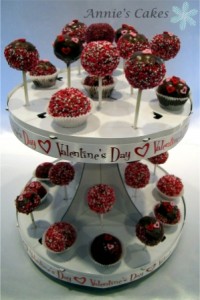 Annie is one heck of a cake pop super star..
I took a tour of her website and was really impressed on her gallery of decorated cakes, cake pops and fun shaped cake balls.
I also found her story interesting on how she started cake decorating. Before we get to her story though lets get into how Annie created the awesome Valentine cake pops!
Annie's Valentine Cake Pop Instructions:
Choose your favorite Cake recipe and bake it.
Let it cool and then crumble it into pieces.
Add a little bit of icing at the time and mix with the cake crumbles. You don't want to much icing, but enough to make the cake stick together and form a little ball.
Roll the little ball into your hand and put it on a piece of wax paper on a cookie sheet.
"Very important to keep your size of your ball small! Use a mini ice cream scoop to make them all the same size. If the ball is too big, it won't stay on your stick. It will be too heavy and fall. If you use to much icing, you can run into the same troubles as well. Not enough icing, the ball will fall apart and won't stick together. A little tricky, but when you get the hang of it, it's fun!"
When you are done rolling your little balls, put them in the refrigerator for a couples of hours. You don't want them frozen, but hard enough to put your lollipop stick in it.
Dip your lollipop stick into chocolate or candy melt before inserting into your ball. When done, put it back in the refrigerator until the chocolate get harder or the stick won't get out.
Melt your chocolate or candy melt, dip your little ball into it, let it drip and then add sprinkles or any decorations of your choice.
Enjoy! 🙂
Annie's Story:
I'm a French Canadian, but moved to the United States 10 years ago. I got married in 2005 and got my citizenship in 2009. My first language is French and I'm still learning English every day! Being from another country, I have a little bit different culture and I want to incorporate it in my new business, so if you are interested in something new, please ask me! I'm a stay at home Mom and plan on keeping it that way for a few years. I am very fortunate to have a wonderful and supportive husband and an amazing boy! We are also thinking about having a second child in the near future hopefully. Cake, cupcake, cookie and cake pop baking and decorating surprisingly came to me only a few months ago. Another Mom in a Mom's group asked who was interested in taking a cake decorating class with her. I decided to give it a try and get out of the house 1 night a week for a month. Then I got hooked! It's funny how motherhood uncovers some wonderful gifts and talents! So I took a few more classes and had so much fun and also found out that I was not too bad at it! So I went forward with a few birthday cakes and cupcakes for the family. They turned out great – everyone loved them!!! And….they got rave reviews from all the party guests. So that's how it began. Friends and family started asking me to do cakes for their children. Of course I'm also having fun creating cakes for my son James, now 2 years old! I very much enjoy making cakes, cupcakes, cookies and cake pops and would love to make something for you.
Here are some more pictures Annie sent over!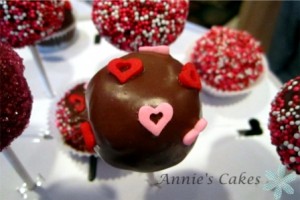 I Love the festive sprinkles shown here…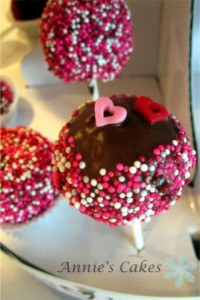 Valentine Cake Pops Wrapped Up!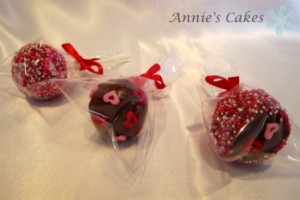 Looking for the Cake Pop Stand?
Found It on Amazon for around 6 bucks:)
Wilton POPS 2-Tier Display Stand
Give Annie some love and visit her awesome site at: www.wix.com/AnnieHockenberry/anniescakes
You can also see more of her work on Facebook!
Want More Great Cupcake Ideas?