Wow, this featured cupcake artist is on a cupcake mission. 23 year old, Naseem Delan is not only a great cupcake artist, she is also a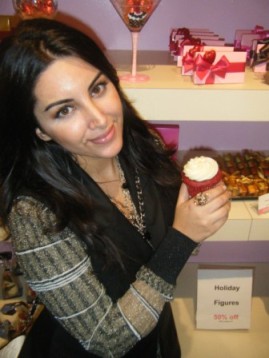 business woman. Naseem is the owner of 4Ever Sweet, a cupcake shop based in Northern California. This is a gal after my own heart. I opened my first bakery in Southern California at the age of 20, so I know first hand, the passion and dedication it takes for this type of undertaking.
Naseem creates simply elegant cupcake designs that surround some pretty unique flavor profiles in her cupcake recipe's.
Naseem's Story:
I LOVE baking cupcakes and have an extreme passion for all things cupcake related as well as everything culinary! I have been decorating cupcakes ever since I started my company, about a year AND I also have been experimenting with cookies.
I incorporate exotic flavors like rose water, cardamom, saffron and dates into my decadent cupcakes that leave people wanting more! I have been baking since I was 8 years old and absolutely love to make deliciously looking sweet treats for everyone to enjoy!
Mini Cupcakes by Naseem: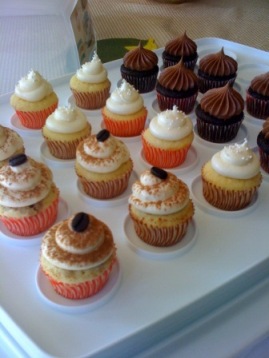 Shown here are just some of the decadent cupcakes you will find at 4Ever Sweet. These are the mini's and are just delightful…
I had an opportunity to view more pictures of Naseem's cupcake art but felt it would be better to give you all first the story on this young lady and then send you over to her site so you can get the whole cupcake picture:)
Please give some cupcake love to this fantastic cupcake artist and new business owner.
Fantastic work Naseem! Congratulations on your cupcake and sweets business…
To view more cupcake ideas at 4Ever Sweet >>>Click Here<<<
I did notice that you will have to scroll down a bit before you can view the entire page on the site…
Want Even More Cupcake Ideas?
One Of My All Time Favorite Cake Decorating Books!
Cakes to Dream On: A Master Class in Decorating
[like url=[like url=http://decoratedcupcakeideas.com/featured-cupcake-artist-naseem-delan/]