Valentine cupcake toppers South Korea style!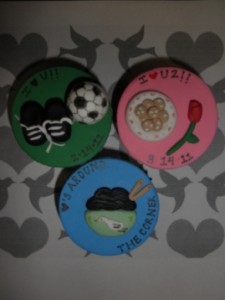 Kimberly McAfee is at it again with a very cool display of cupcake toppers for Valentine cupcakes with a South Korea theme.
I love her style and also the fact that she gives us all an education on how South Korea celebrates Valentines Day.. Well a couple of month's actually.
Take It Away Kimberly!!!
Hello Fellow Cupcake Lovers!
I really wanted to do something fun and unique for Valentine's Day, so I made cupcake toppers based on the way South Korea celebrates it (which spans a couple months).  I'm half-Korean, so this is a great way for me to share my heritage as well J I hope you enjoy them!
The first cupcake represents Valentine's Day, which is when girls give boys chocolates.
I used the sports theme (soccer is HUGE in Korea!) to make it a little more manly J I used a cookie cutter from Wilton's 101 Cookie Cutter Set to make the base, and hand-molded the cleats and soccer ball.  I used an edible marker for writing and details.
The second cupcake represents White Day, which is celebrated exactly one month later from Valentine's Day.
This is when boys return chocolates, which are traditionally white, to the girls.  I tried to imagine what would I would like for White Day, and I came up with homemade white chocolate-macadamia nut cookies and red roses J I used Wilton's tip #12 to make the cookies; all other details are hand-molded.
The third and final cupcake represents Black Day, which occurs one month after White Day.
This day is for all the single folk who received no gifts on either Valentine's or White Day.  All the single people go out to mourn their single status by eating noodles covered in black sauce called "Jajangmyun."  While this sounds sad, it really is an opportunity to find true love!  All the singles eat these noodles together, and you never know who you'll bump into…it could be the last Black Day you celebrate!  I used Wilton's tip #2A to make the noodle mounds, mashed them together, and used Wilton's 10 Piece Fondant/Gumpaste Tool Set to create indentions to look more like a massive pile of noodles.  All other details are hand-molded.
Lastly, the cupcakes are a rich and super moist fudge with vanilla/almond frosting (to pay homage to the different holidays).  This would be a fun and educational project for kids learning about other cultures, or even a sweet new tradition for you and your honey bunny!
Visit Kimberly On Facebook!

Want More Great Cupcake Ideas?