These Red Velvet, heart shaped cake balls are so delicious.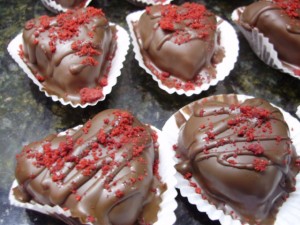 They are filled with the cordial cherry filled Hershy's kisses and then dipped in chocolate. Yum Yum!
I love finding new way to make cake balls and different themes and designs for the holidays and special occasions.
These cute heart shaped cake balls are fairly easy to make.
You can make these any flavor but I thought the Red Velvet cake would be perfect for Valentines Day. They are also really nice for weddings and wedding showers. I am going to do some in white chocolate also with some cool designs on them.
What You Will Need To Make The Red Velvet Cake Balls: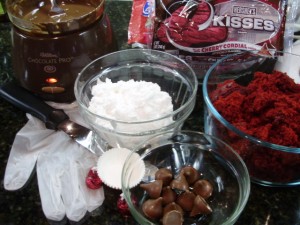 Red Velvet Cake "Baked and Cooled"
Professional Cake Decorators Icing "you can use canned icing but I do not recommend it"
Cordial flavored Hershey Kisses
Mini Cupcake Liners
Food safe gloves
Dipping Chocolate
Melting pot " I really like using the little Wilton Melting Pot but I use a glass bowl instead of the one that comes with it. I also put a small amount of water in the melting pot. Do not let the water touch the bottom of your bowl.
Fork is used for dipping the cake balls
Wax paper or Parchment paper to line baking sheet so you can freeze the heart shaped cake balls
Small Sheet Pan. "You will want to find one that will fit in your freezer nicely.
Lot of Love:) " Always put love into everything you create…
How To Make The Red Velvet Cake Balls:
Start by baking your red velvet cake and let cool.
You can make your professional cake decorators icing while your cake is baking.
For a nine inch single layer cake, you will need about 2 cups of icing. Put in 1 cup first to check consistency. If you like your cake balls more firm, you will use less than 2 cups of the icing.
Once your red velvet cake ball mixture is ready, scoop out a glop of the mixture and place a Hershey kiss in the center.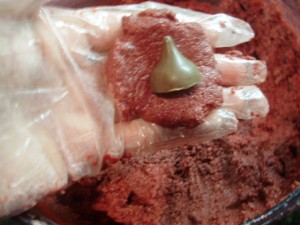 Gently form the cake ball mixture around the Hershey kiss until it is in a ball shape.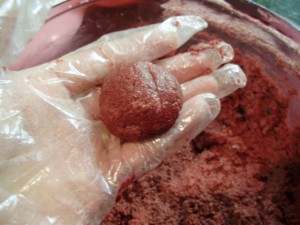 Next, using your thumb and index finger, shape the bottom of the cake ball into a pointed heart shape edge. Using your index finger, create the top of the heart shape. You will find that once you place your heart shapes on the baking sheet, you can form them a bit more to your liking.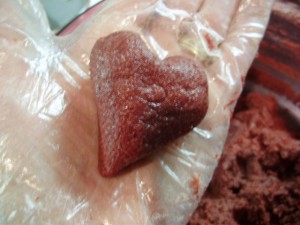 Place your heart shaped cake ball on a lined baking sheet or cake board and place in freezer until firm enough to dip in chocolate.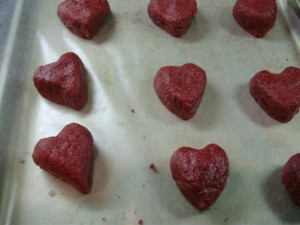 Once your cake balls have firmed up, it's time to start dipping! Place your heart shaped cake balls on a fork and submerge in the chocolate, Let the excess chocolate drip off as much as possible. Scrape the back side of the fork to get even more of the excess chocolate removed.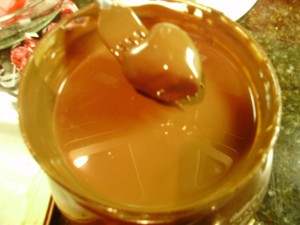 Quickly place the dipped heart shape cake ball on a mini cupcake liner. You will want to flatten out your liners for this.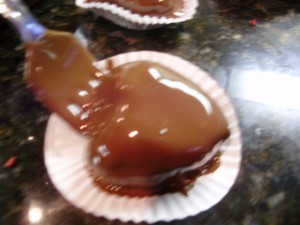 You can use your fork to drizzle more chocolate on the top to create design. I also used red velvet cake crumbs to embellish the tops of the hearts:)
Here's a shot of one finished and broken open…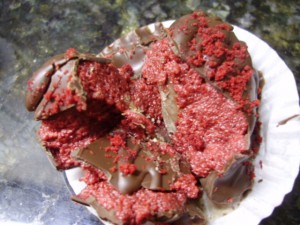 Video On How To Make The Red Velvet Cake Balls Heart Shaped:
Tweets That Mention Red Velvet Cake Balls:

Channeling my inner foodie and making red velvet cake balls. Wish me luck!
By ActiveEggplant at 01/23/2011 16:42
Related articles On Cake Balls:
Want More Great Cupcake and Cake Ball Ideas?


Sweeten up your 2011, design your cake like a pro with Provo Craft Cricut Cake – Now Only $375