This Lovely Cake Balls Flower Pot is not only beautiful but was made from the heart by our newest Featured cupcake artist Charlotte Vanmol.
The detail here is just wonderful and the colors are oh so vivid and well coordinated.
When we received the request from Charlotte to be featured, we were in awe at the story that goes along with the creating of this very special cake adorned with Butterflies, Lady bugs,  Cake Ball Flowers and Soil.
Read on and learn what each of these elements symbolize for this fantastic artist and her heart felt creation.
In Charlotte's Words: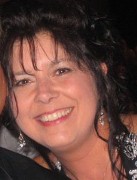 The attached picture is of a cake I made for my Mom's Birthday. She is such an amazing lady and I wanted to do something special for her.

She and my dad have always been there for our family. My dad passed away last December on their 57th anniversary.

This cake represents our family and the bond we have, thanks to them.

The flower pot and the soil represents my parents for their support and nurturing they have given us.

The 3 butterflies represents their children (me, my sister and my brother) the flowers represent their grandchildren (our children) and the ladybugs represent their great grandchildren (our grandchildren).

Needless to say… She loved it!!

The flower pot is vanilla cake with cookies n cream filling, the flowers are cake balls with gumpaste petals, the butterflies and lady bugs are gumpaste. The "dirt" is crushed oreos.

I started baking cakes 11 years ago as a hobby and that hobby has turned into a passion.
My facebook page is   https://www.facebook.com/#!/bakemeacakeandmore
My website is www.bakemeacakeandmore.com
If you love this like we do… Hit the facebook Like button below and share this with everyone you think would enjoy it!
Related Posts for Cake Balls:
Maraschino Cherry Bomb Cake Balls
If you would like to have your cupcakes or other cake art featured on Decorated Cupcake Ideas, simply email us with your information. You can view our video tutorial on how to become a featured cupcake artist by following the tab at the top of this site that says, become a featured artist!