This Baby Cakes Cake Pop Maker has been selling like crazy!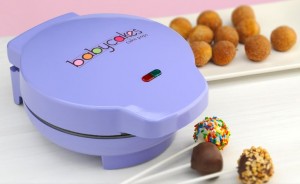 Why? because it's simple to use and it makes perfect cake pop balls.
While the Baby Cakes Cake Pop Maker may not be for everyone, it is certainly a great little gizmo to consider if you like your cake pops to be mostly cake.
We studied several forums and got a pretty good idea on how many cake lovers react to cake pops and the way some of them taste.
What was interesting is that a lot of folks do not like the cake pops with the canned icing. This includes me. We use the pro cake decorators icing to do our cake pops so they are not sickening sweet. What was more interesting, is the amount of folks that just like cake with a bit of icing or just the chocolate coating without the extra stuff. I personally love the extra stuff. Nuts, coconut, fruit filling you name it, I am all about it.
So, for those that want their cake pops simple, this is great choice.
What we love about this nice little machine is that you can use it for quite a few different ideas aside from making the cake pops with it.
Some cool ideas for the Baby Cakes Cake Pop Maker:
O.k, of course that cake pops but also;
Hush Puppies
Corn Bread Balls
Donut Balls
Product Features
Nonstick coating
Makes perfect cake pops without using frosting in the mix
Includes: Cake Pop Stand & recipes and hints
Comes with cake pop sticks
Two pronged Fork included
Product Details
Shipping Weight: 5 pounds
ASIN: B0050JRZR2
Item model number: CP-12
Amazon Bestsellers Rank: #326 in Kitchen & Dining
Visit for more info:Baby Cakes Cake Pop Maker
Want More Great Ideas Sent To You?