I recently visited a Kroger bakery in Buford Ga., on Buford Hwy. This Kroger opened in November 2010 and the bakery department is absolutely beautiful. Of course the Jumbo Cupcakes in the Kroger bakery display case instantly caught my eye.
Of course I carry my camera everywhere I go so I can get shots of cupcakes and share them and new cupcake ideas with you all so here are are a few pictures of what this particular Kroger bakery has in store for you as far as the jumbo cupcakes go..
Kroger Bakery Jumbo Cupcake with Giant Roses:
The giant buttercream roses may look a bit intimidating to create at first but they are really quite simple once you get the hang of it. To create a giant or jumbo rose you will need the cake decorating tip #127D. You will also need the witches hat nail. The giant roses shown here are also airbrushed.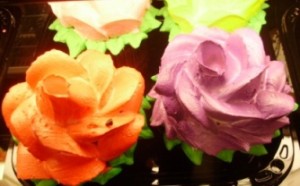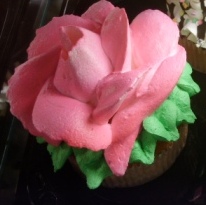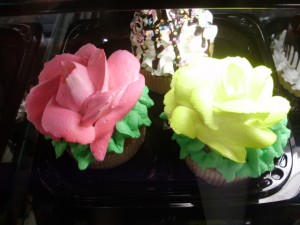 Kroger Bakery Jumbo Cupcakes Assorted: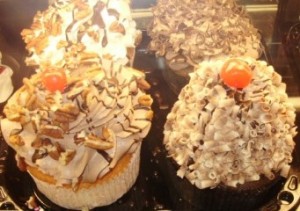 I love the variety of the jumbo cupcakes here. Some have mini white chocolate curls while others have pecans and chocolate drizzle.. Love these. I think the Kroger cake decorators did a fantastic job with these.
Kroger Bakery Jumbo Cupcakes Sunday Style Topping: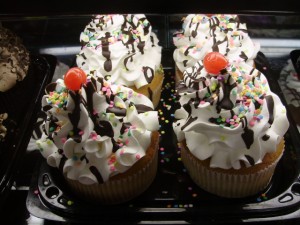 The Sunday Jumbo cupcakes are really easy to make. Just use your large star tip and mound it up to the top in a circular motion. Add some colorful sprinkles, drizzled chocolate and a cherry to top it off. Cute and Fast to create:)
You will find that most of the newer Kroger grocery stores are really stepping it up in the bakeries and service deli departments. The new Kroger located at 6001 SR 20 Buford Hwy in Buford Ga. is OUTSTANDING!!!!
Want More Cupcake Ideas Sent To Your Email?