Easter basket cupcakes are really easy to make. With shredded coconut, some green food coloring and some Easter candy, you can create unique Easter cupcake gifts to give out.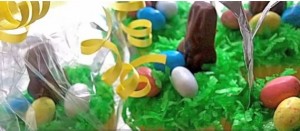 To create the Easter basket cupcakes you will need:
Pre baked Cupcakes
Vanilla Cake Icing
Green Food Coloring
Shredded Coconut
Jelly Beans or Whopper Eggs
Chocolate Bunny's
Pipe Cleaner or Tin Foil for Basket Handle
Clear Cellophane
Colorful Ribbons
Easter Cheer and a Warm Heart:)
How To Make The Easter Basket Cupcakes:
Start by icing each cupcake with green colored frosting. You can you use regular buttercream frosting or the pro cake decorators icing.
Next, add some green food coloring to your shredded coconut. You can use a plastic baggie and place the coconut and food coloring in together and shake the baggie until the food coloring is evenly mixed into the coconut. Once you get the color you want, sprinkle it on top of your iced cupcake.
Add a few pieces of candy eggs or jelly beans and a small chocolate rabbit.
Next add your pipe cleaner or aluminum foil for the Easter basket handle.
Wrap in clear cellophane and tie the top with a pretty curled ribbon.


Great Easter Basket Cupcake Video With Vanilla Almond Cupcake Recipe:

Want More Great Ideas Sent To Your Email Inbox?
Related Articles To Easter Cupcakes:
Spring Flower Cupcakes with Edible Grass Cups {Wilton Giveaway}
Fortunately, I got to hold onto a bit of that Spring feeling with a new cupcake pan I got from Wilton. The Springtime Cupcake Pan is one of the newest products for 2011 from Wilton that is unlike any other cupcake pan I've ever seen. The base of the pan has a shallow "mini" …. Adeline Falk says: 03/25/2011 at 2:44 PM. I am a fan of wilton on facebook. Reply. 20. Tracy P says: 03/25/2011 at 2:45 PM. I'd like to make the Checkerboard Pastel Easter Basket Cake. So pretty! …
Publish Date: 03/25/2011 15:34
http://3kidsandus.com/2011/spring-flower-cupcakes-with-edible-grass-cups-wilton-giveaway/
By the Bluegrass…: Easter Basket Cupcake Tutorial
I love Easter and your cupcakes are so perfect for the upcoming season. Thanks for visiting me at Cottage and Creek. It's snowing and YUCKY here by the creek so your bit of springtime goodness brightened my day! …
Publish Date: 03/22/2011 23:58
http://senagarrett.blogspot.com/2011/03/easter-basket-cupcake-tutorial.html