Butterfly Cupcakes are one of my favorites to decorate. I wanted to do something a little different this time so I got this idea to use tiny cookie cutters to cut out the shapes of butterflies from frozen buttercream icing. I then dipped the cupcake in chocolate and topped it off with a chocolate butterfly with simple hand painted wings…
I have included the steps on this post so you can see exactly how I created the layer that the top butterfly is sitting on.
These sweet mini butterfly cupcakes are so much fun to create and are great for butterfly themed parties and are also a cute idea for wedding showers. I will have more decorated cupcake ideas for wedding showers coming up soon…
Please feel free to share your thoughts and suggestions on our site.
You can also sign up to get email notifications on when new cupcake ideas are posted from us and our subscribers…. 🙂
What you will need:
baked mini cupcakes
buttercream icing
mini butterfly cookie cutter
spatula
chocolate melts
white chocolate melts
food coloring
scissors
parchment paper
small artist brush
a big smile 🙂
Preparing Your Buttercream Icing:
Line a 1/4 sheet pan with parchment paper and smooth out the buttercream icing to approximately 1/2 inch thick.
Let Set up in Freezer: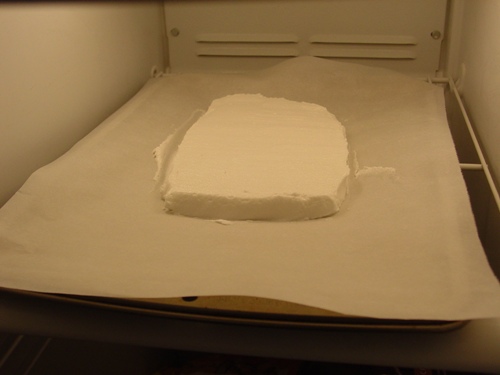 Press Butterfly Cookie Cutters into Frozen Buttercream Icing:
Tip: Make sure your buttercream icing is on the firm side for ease of dipping.
Lift the butterfly cutout with spatula. You may have to re-freeze before doing this if your room temperature is a bit warm.
Gently push the buttercream out of the cut out with finger onto your cupcake..
Re-Freeze for Good Measure!
Tip: keep your cupcakes in your cupcake tin for ease of access 🙂
Ready, Set, Dip:
Melt Chocolate in glass dish in your microwave. Or you can use a double boiler if you have one handy.
Remove your cupcakes from the freezer and start dipping. You want to be AS FAST AS YOU CAN but still gentle.
Making the Base And The Butterfly Wings:
Melt the white chocolate and color it yellow or any color you want for your wings.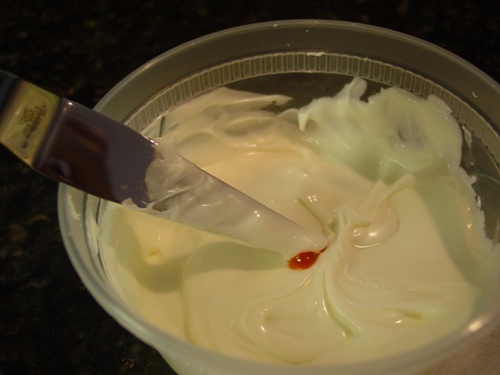 Fill parchment paper with colored chocolate:
Pipe Butterfly base wings on to enrobed butterfly base:
Pipe out wings on parchment paper:
Place the dry chocolate wings on the base attaching them with wet chocolate. It takes just a few seconds to dry.
Putting Grassy Borders On The Levels:
Simply pipe on grassy borders to fill in any imperfections and to create colorful levels…. Green colored Chocolate is used here but you can use buttercream as well.
Painting A Simple Design On The Wings:
Use any color food coloring. I watered it down a bit using clear almond flavoring.
Just a simple splash of color on the butterfly wings. We will show you more artsy designs on the next tutorial….
Finishing off your Butterfly Cupcake Dipped In Chocolate!
Pipe and fill the imperfections on the chocolate enrobed butterfly with pretty leaves, tiny flowers and what ever your imagination tells you to do. Have a blast with this…
How To Make Professional Cake Decorators Buttercream Icing