Bookworm Cupcakes!
Here we have such a cute idea and awesome creation from one of our favorite Featured Cupcake Artist, Lori Arpey.
These fun little bookworms and books were created for Lori's daughter "Em" and her book club she attends.
Here is What Lori has to say about these cool bookworm cupcakes!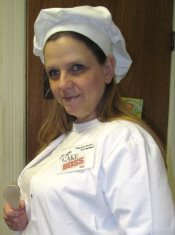 These are cupcakes I made for my 9 yr old daughter's book club meeting she is in now.
They are strawberry cupcakes frosting with pink lemonade butter-cream frosting. The toppers were hand molded from fondant. The bookworms were pretty easy actually.
I made the worm shape from bright green fondant and rounded the head part for a more defined head shape.  I added the eyes and used my Wilton markers for the blue then dipped a toothpick in black to make the pupils.
I made cute little bow ties and books and added them.
After the books were on I made little hands for them all and added them on. If I had gum-paste on hand I would have tried to make little glasses, but all I had was fondant and knew that it wouldn't work right lol.
The books were easy. I made squares from white and wrapped the color fondant around them for covers. Then I used my straight edged tool to "carve" pages.  I used my tiny flower cutter to make the little flowers with a silver dragee in the middle of each.
I was surprised how easy they were to do.
My daughter's friends all LOVED them! she came with the container and 2 left! (which were gone by the time we went to bed lol)
I hope you all enjoy these 🙂
Lori at The Cake Company
"If They Want To Eat Cake, Make it a Pretty One :)"
To view even more great cakes and cupcakes by Lori Arpey, visit her site or say hello to her in the CAKE DECORATORS ROCK forum on Facebook!