Oh how cute these Dog Paw and Chi Cupcakes are!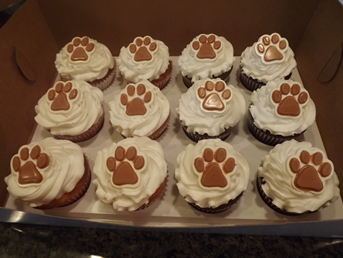 Diane Shankles, created these wonderful puppy paws and way cute Chi's with love and attention to detail.
These lovely works were submitted last year and we just love them!
Diane is the owner of ChooChoo City Cakes in Rockspring Ga. and has recently opened her new cake studio to the public.
The paw cupcakes show here were created with chocolate doggy paw molds.
The Chi's shown below are a bit more difficult to create for most but Diane has her craft nailed down to perfection with these little cuties.
She let us know how she made the Chi cupcakes so we can share her process with you all.
The chis were made with fondant for the face, chocolate for the ears, and m & m's for the eyes and a puff of buttercream for the nose with a mm on top.  The long hair chi I made the "hair" with my extruder gun.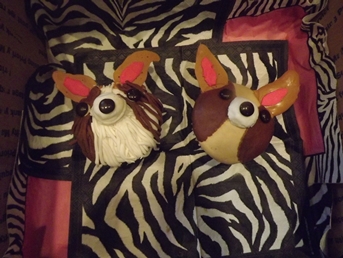 You can see much more of Diane's work on here website or visit her on Facebook.
To visit her site: http://www.choochoocitycakes.com
Here Fan Page on FACEBOOK
Diane is also an active member in the Cake Decorators Rock group on FB.
We found the dog paw molds here for you all!
CK Products 1-1/2-Inch Paw Print Chocolate Mold