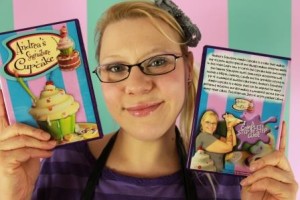 What a treat we have for you!
Andrea's Signature Jumbo Cupcakes!
As many of you know, we love to track down who we believe to be the best of the best in our world of cupcakes. Andrea brings something to the table that will captivate and inspire you,not only with her amazing work but with her story.
It is great pleasure to feature this cupcake artist and go getter.
We caught up with Andrea after noticing her DVD on the amazon market place.
This is what Andrea Sullivan shared with us to share with you!
  "I was artistic in my youth, I loved drawing and some polymer clay sculpting. But as I grew up, got married and had a family I found that I didn't tap into my artsy side any longer.

My mother in law signed me up for the Wilton classes back in November of 2008 and it unlocked a inner passion I did not know I possessed! I have been decorating ever since.

I must say that I didn't think that taking those classes was going to set me on such a crazy ride. I went from stay at home mother to Award winning cake designer/decorator.

I have been on Canadian TV, where I and a good friend took first place in an episode of Cake Walk: Wedding cake edition, traveled internationally to teach my signature designs, my cakes have been featured in many magazines including Cake Central Magazine 3 times! Hat trick, baby! and now I am releasing my own independent line of DVDs.
I have already launched one on my Signature jumbo cupcake design, and my newest will be ready for release before the end of the year.

The world lends its inspiration to me, I take it all in, and use what I can to develop a awesome design. I really like the feeling I get from making it as far as I have just because I posted my pics on the internet, the world responded and pointed me in the direction I am headed. I'm not too sure if I would be as far as I am now if it were not for the worldwide web! I want to thank anyone that ever sent me an email because they felt inspired or empowered by my work, it is because of these people, friends, fans, and admires that I keep doing what I do."
 Just Look at These Incredible Signature Jumbo Cupcakes Andrea Created!
View Andreas DVD on Amazon:
Andrea's Signature Cupcake DVD
Connect with Andrea on Facebook at https://www.facebook.com/AndreasSweetcakes
Congratulations Andrea on a bright future ahead!