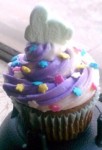 Cute, simple and sweet. This marshmallow bunny topped cupcake is perfect for a last minute Easter cupcake idea.
Yummy purple colored buttercream icing with star sprinkles and a cute marshmallow bunny sitting on top adorns this chocolate cupcake.
This Easter cupcake idea was sent in to us by Lindsay of Stars and Skulls Cupcakes.
. . . → Read More: Marshmallow Bunny Topped Easter Cupcake Idea