What great Easter Cupcake Ideas sent to us by Yani Martinez. Yani is our newest "Featured Cupcake Artist" and is just such a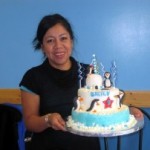 sweetheart. Her Easter cupcake ideas are fun and colorful and her displays are just wonderful.
About Yani Martinez:
A long long time ago like 10 years ago, a friend(co-worker) invited me to join her attending a Wilton cake decorating class.   We attended at the end of course 1 I ended signing up for course 2 completed…then got side track in life!!  Over the years I would whip up a cake here & there nothing serious…In 2008 decided to take a refresher at a not too close cake decorating school & was hooked.  Still have a lot to learn & to practice, right now family, friends & referrals come my way for yummy cupcakes, cake or sugar cookies…lol  (can one say cookies on this website??..lol   My website is located at http://angelicstyle.webs.com

Thank you so much for sharing your awesome ideas & this great website*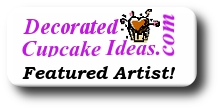 About Yani's Easter Cupcakes:
They are peanut butter cupcakes with peanut butter fudge  frosting, cover in fondant.  The cupcake toppers were made using small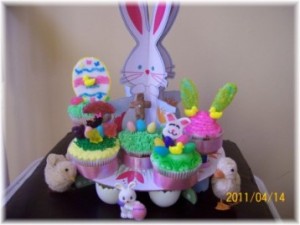 cookie cutters on fondant then decorated with spring sprinkles, jelly beans, chocolate eggs, gummi Easter bunnies.
The cupcake with the bunny head surrounded by chocolate eggs the design around the cupcake top is made with crimpers, dusted with green shimmer dust & a tiny candy duck/cheek..lol
I luv the butter cream grass, its so easy to do and a lot of fun to do.
The pink cupcake with the bunny ears (mind you they look like a cactus plant) was dip in pink sugar.
The cupcake with the cross is marble in fondant & a dragee place in the middle & surrounded with chocolate eggs.
The purple glittery cupcake is a parasol/umbrella the cutout was dipped in decorating sugars, jelly bunnies surround two Easter chocolate eggs, green sprinkles make out the grass, the base of the cupcake was cut with a fluted round cookie cutter & an impression mat used to give it a bit of a texture.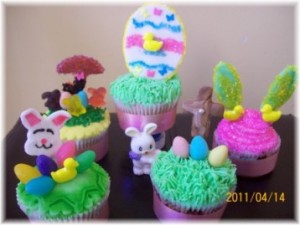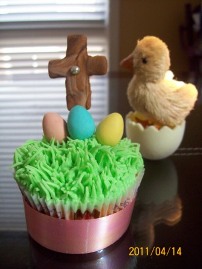 You can visit >>>>Yanis Facebook Page<<<<
Want More Great Cupcake Ideas?