These wonderful Halloween Wolf Cupcakes were sent in to use by Autumn Apodaca, our newest featured cupcake artist.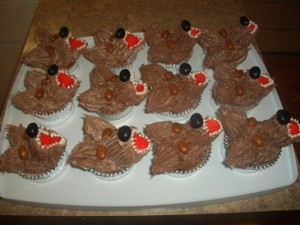 We got a heads up on these from one of our insiders AKA"Tiny Hearts" here at D.C.I. and jumped all over these fantastic wolf cupcakes just in time for Halloween.
We were also told that this cupcake artist worked on cakes just before giving birth to her new baby girl! Congratulations on the little bundle of joy:)
O.k, back to the kick butt wolf cupcakes.
While we did not get the full scoop on exactly how Autumn created these wolves, we do know that she used the  #18 star tip. She also took the back of a fork to some of them with vanilla frosting on it to give the 'fur' a more realistic look. VERY COOL technique.
We will assume the muzzle was created using a mini cupcake on top of the lager one. Jelly beans for the eyes and nose and a whole lot of love to go along with them.
Halloween Cupcake Wolf: Close up Shot!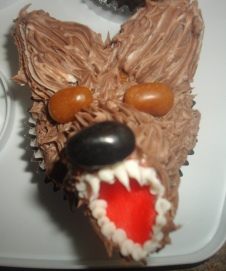 We Just Love Love Love This Wolf Cupcake!
RAWRRRRR…..



You can see more of the detail here in the fur as Autumn mentions by using the back of a fork with the with buttercream for contrast.
It looks like she may have used either cookies for the ears or possibly straight up buttercream icing.
We will hope our artist here will leave a comment and let us all know exactly how she did this in her own words 😉 hint…
Here is what we did get from her in an email she sent us.
Wow sometimes your just born with the gift of art and cake decorating skills!
About a year and a half ago I started decorating cakes for birthdays of family members and close friends as practice for a 25th wedding anniversary cake for my husband's parents. I've spent spare time watching youtube videos picking up techniques and helpful little suggestions that other people have. It's interesting and insightful to watch other people as everyone decorates different and has different tricks of the trade. I've taken a lot of that and combine it with my own creativity.
To view more of Autumns awesome work, you can find it on her facebook paage!
http://www.facebook.com/autumnsharpapodaca