Oh just look at these beautiful Christmas cupcakes sent in by our newest featured cupcake artist Elaine Graham!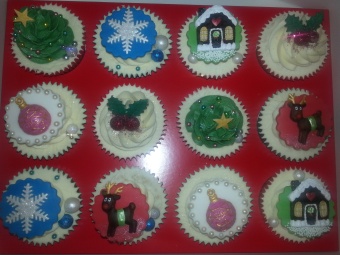 These whimsical cupcakes are just too pretty to eat.
Christmas trees, snowflake, houses, holly berries, Christmas bulbs and reindeer.
The attention to detail here is fantastic and the colors are vivid and so eye catching.
Elaine sent in many more of her awesome cupcake creations that we will be revealing to you in the next few posts but for now we thought it would be perfect to show off her amazing Christmas cupcake collection.
Talk about super cute and creative cupcakes for Christmas in this picture! We love, love, love them all.
Santa in the chimney, reindeer head, Christmas tree, poinsettia, stunning tree bulb, wonderful penguins, Christmas gift, Bulb top, jeweled topper, holly berry, snowflakes and a stacked Christmas tree.
AMAZING WORK!
Welcome Elaine Graham to Our family of Featured Cupcake Artists!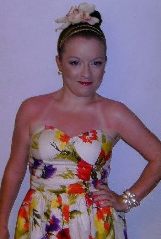 Here is what Elaine shared with us in her words : )
I started cake decorating in May of this year I didn't purposely start for Christmas last year a good friend of mine got me loads of cute cake decorating equipment and so I thought ah I'll give it a go see if I'm any good. I was mostly doing cupcakes for myself and family but then I'd pop a pic of what I'd done up on Facebook and all my friends loved them and started asking would I do orders for them and it went on from there.
I started my cupcake page on Facebook at the end of May 2012 was so surprised to have 1000 fans on there in 5 and a half months 🙂 I love cake decorating starting from planning what you want to do picking out designs, then making them from start to finish and they actually applying them to the cake and seeing the finished look (that's my favorite part) 🙂 I would love to open up my own bakery one day but that may be just a distant dream lol 🙂
You can visit Elaine on her Facebook page at  https://www.facebook.com/elainescupcakes
Be sure to leave a comment below and give our newest member of the family a warm welcome!