Christmas Baby Cupcake Toppers by Featured Cupcake Artist Leah Berry!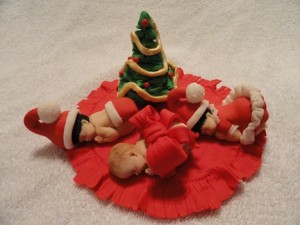 What beautiful Christmas Baby cupcake toppers and cake toppers these are!!
Our newest family member of Featured Cupcake Artists , Leah Berry is one incredible fondant master.
We first met Leah in the Cake Decorators Rock group on Facebook. Her first Baby's we noticed were simply amazing, so we kept tabs on what this gal was up to with her creations.
Such detail in everything Leah does with all of her everyday and seasonal fondant baby's.
We contacted Leah so we could show off her work here for you all. When we received her Christmas baby toppers, we were thrilled with them.
The detail on each baby is perfection!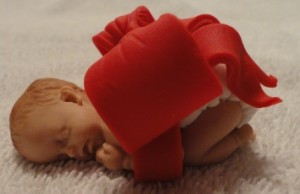 Meet Leah Berry:
 Hi, my name is Leah Berry.  My passion for cake decorating started when I was just in high school and decorated my very first cake.  Not long after high school I took the Wilton cake decorating classes and that was all it took to feed my addiction to playing with sugar.  In recent years I have discovered ICES and other cake decorating groups and clubs on Facebook which has opened up a world of new levels of decorating with different ideas, techniques and mediums.  I attended the ICES convention in Chicago, IL in 2009 and have plans to attend the next one in Reno, NV in 2012.   For a short time my friend and I owned a bakery in our hometown but due to the fact that we also both worked at other full time jobs we couldn't keep up with both so we sold the bakery.  We are hoping that in the next couple of years we will be able to reopen the bakery and work it full time.

Once I discovered all the amazing moulds, cutters and other fun tools for working with fondant and gumpaste the sky was the limit.  The babies featured here are one of my favorite things to make.  How can a mould make something look so life like?   Your limited only by your imagination when it comes to all the things you can do with them and they are the perfect size for cupcakes too!  I love working with fondant and really enjoy making figures of all kinds for all occasions.  The biggest reward I get from decorating cakes, cookies and cupcakes is the reaction I get from the people I make them for.  It makes it worth all the hard work that goes into it.

You can find Leah hanging out in Cake Decorators Rock on Facebook as well as her Facebook Page
You can view or purchase the Baby Moulds Here