Yummy Banana Pudding Push up Pops!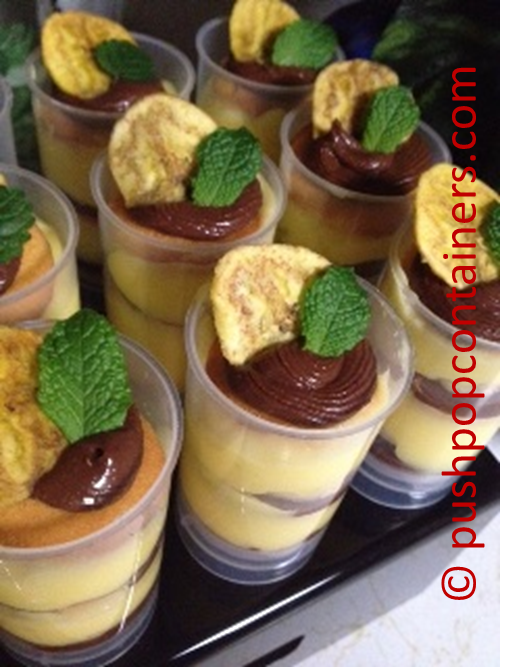 O,k, so these Banana Pudding Push Up Pops are to die for!
Layers of vanilla wafers, fresh bananas, vanilla pudding and chocolate peanut butter! Yep, chocolate peanut butter that will knock your socks off. The top of the push up banana pudding pops are garnished with banana chips and a mint leaf.
The images here are owned by one of our favorites sites at Push Pop Containers online Shop http://pushpopcontainers.com
Here is what you will need to create the Banana Pudding Push up Pops.
2 large packs of instant Vanilla Pudding
Milk
Fresh Banana's
Vanilla Wafers
Banana Chips
Chocolate Peanut Butter (did we say flipping yummy?)
Mint leafs
Pastry or Parchment bag to fill the containers
Push Pop Containers
Push Pop Containers Stand to hold the containers in while working and for display
Room in your refrigerator. (you will need a space of 11″ long by 6″ wide by 8″ tall.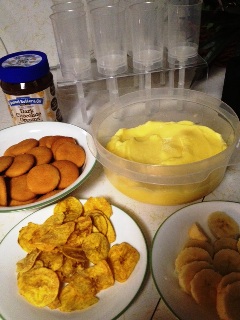 How To Make Em'
Step 1. Prepare vanilla pudding mix per instructions on box. You will most likely want to use (2) 5.9 oz boxes if you like to nibble while creating : ) Place in fridge to set for about 10 minutes
Step 2. Slice fresh bananas to desired thickness. 1/8 inch or so should be just right. Set aside in covered dish.
Step 3. Assemble push pop containers and place in stand.
Step 4. Fill large parchment or pastry bag with chocolate peanut butter.
Step 5. Remove pudding from refrigerator and fill parchment or pastry bag with pudding. You can spoon the pudding in the containers as well if you prefer.
Step 6. Place 1 Vanilla wafer in the base of each push pop container and pipe a dollop of chocolate peanut butter on top of wafer.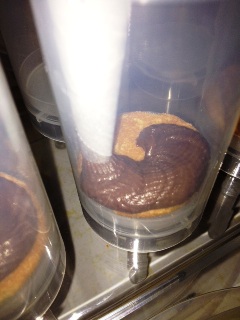 Step 7. Place one banana slice on top of chocolate peanut butter.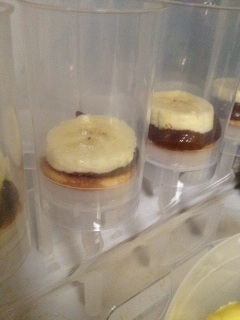 Step 8. Spoon or pipe in Vanilla pudding on top of banana.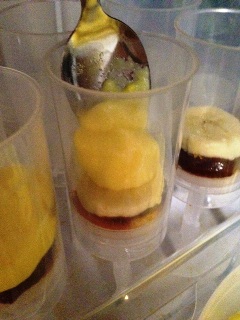 Step 9. Repeat layering until full. Top off with a swirl of chocolate peanut butter, a banana chip and a mint leaf!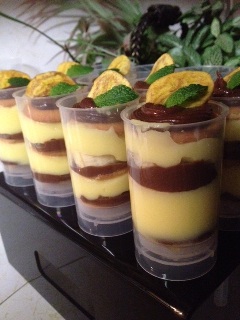 If you are looking for the Chocolate Peanut Butter, you can get it at some grocery stores in the south or buy it online !
Want More Great Ideas Sent To Your Email?