Alright gang, this Push Up Pops Book is a must have book for 2012!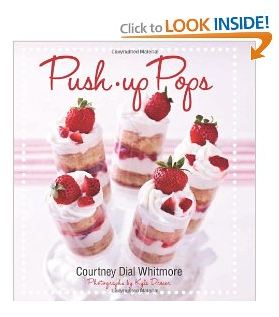 Courtney, does it again with her new book for the new rage in push up pops! This book is filled with wonderful ideas and pictures for the push up pop cakes and cream desserts.
Many of you may already know this author from her previous amazing books she has written but this one really takes the cake.
The push up pop containers were originally designed for the cream desserts. The cake decorating community grabbed hold of these push up pop containers and went nuts with all sorts of creative ideas on filling them with everything from mini cupcakes to brownies and cheesecake. Anything goes fantastic in them.
Courtney, clearly saw the future with these cool and fun push pop containers and took the ideas in her creative mind and turned them into pure eye-popping works of beautifully crafted food art.
Her work on this book has caught the attention of major celebrities as well as food companies including Tori Spelling, and Con Agra Foods who by the way such partnered with Courtney to do a national book signing. Courtney uses tons of food elements in her creations in the Push Up Pops book that are easy to get a hold of at just about any local grocery store. The only thing you cannot get at the local stores are the containers themselves. Not yet anyway… For now they can be found at pushpopcontainers.com as well as on amazon!
Congratulations Courtney on your new book!