What a great year for Cake Decorators in 2013..
We witnessed many new businesses being launched this year from so many amazing cake decorators.
While the economy struggled, it also forced many to take matters into their own hands and make the move into becoming entrepreneurs. A large sector of this movement came from cake decorators that launched home based bakeries and catering companies. Additionally, it brought on a whole new set of creative tools and supplies from manufactures that saw the surge in cake decorating. Although the initial challenge seemed to start with cupcakes it evolved into much more than just a trend.
Sculptors and airbrush artists jumped on board, using cake and icing as a new medium to experiment with and the high level of cake artists came to us with a welcome explosion of the Wow Factor in cake decorating.
So what were the top 10 supplies and tools cake decorators used in 2013?
Here is the list from our own research using our in house analytic team and response from cake and bakery suppliers that list their products on Amazon and on their own online store fronts.
Aetco: This is our personal top pick when it comes to Cake Decorating Tips and Cake Turn Tables. So, they are taking the top 2 slots. Our research shows that they are the most loved and have the best quality in these two categories under tools and supplies.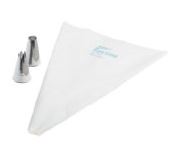 1. Aetco Jumbo Tip and Bag Set. The traditional small star tip for decorating cupcakes has fallen to the wayside and has been replaced by cake decorators that now are using the larger tips. These tips were originally used for pastry and eclair tips. Not anymore. They are the most used size in today's cupcake world. While this listing is from one of the Aetco resellers on Amazon, they have the best price and include a bag. The buyers love this offer.
Ateco Pastry Decorating Tip, Set of 3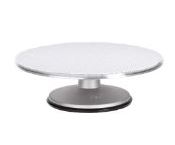 2. Aetco Cake Turn Table: This is the most advanced in design and is heavy duty. It is also the most expensive but well worth the price. Compared to other cake turn tables on the market, Aetco wins hands down on this newer design.
Ateco 613 Revolving Cake Stand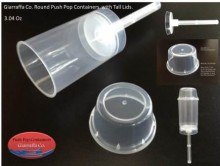 3. Giarraffa Co.: Push Pop Containers for Cake and Cream Desserts. The Giarraffa Co., Push Pop Containers are the preferred choice from professional cake and pastry chefs as well as ice cream and gelato makers. The Push up Pop Cake Craze started in 2011 and was thought to be just a trend. That trend has turned into a staple product for the bakery community. While other manufacturers including Wilton have attempted to create a like product, they can not compete with the design, quality,functionality or pricing of the design by Rhonda Giarraffa and Monique Moussan. You will see many folks selling on Amazon under the Giarraffa Co name but reports have been made that there are sellers using bait and switch and shipping items that are lower end and poor Quality. It is best to purchase this item directly from the Giarraffa Co online shop. Oh, and they also secretly ship priority to their customers as well as give out free gifts and coupons.
Giarraffa Co Push Pop Containers.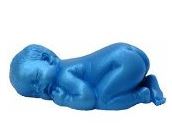 4. First Impressions: The Baby Mold… Everyone was hunting this little sweetie down and creating the most amazing baby cake toppers! We saw it all. From Easter Babies to Christmas Babies.. They are just too darn cute and for those with a knack of airbrushing techniques, all we can say is Incredible Work!
First Impressions Molds Silicone Mould – Baby – Curled – 2¼"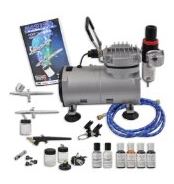 5. Master Airbrush: This is most popular selling complete airbrush kit that that took over sales on amazon in 2013. We are putting the full description here so you can see everything that comes with it. It is also the highest in ranking.
Master Airbrush Cake Decorating System. 3 Airbrushes, Air Compressor, 6′ Hose, Airbrush Holder, 3 Quick Couplers, Red, Blue, Yellow & Green- 0.7 Oz. Americolor Food Colors. Now Includes (FREE) White & Silver Shimmer Colors & How to Airbrush Training Book to Get You Started.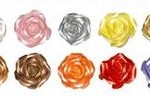 6. Ameri Color: Airbrush colors that are Pearl Sheen! Vibrant in color and growing in popularity against the Chefmaster Brand. AmeriColor – Amerimist has taken over in the food coloring and airbrush colors choice from the professionals. While Chefmaster was once the top pick, we believe it was due to so many folks not recognizing the value in Americolor products. We assume the popularity grew due to the number of airbrush kits being sold that include the Americolor brand. Consumer Awareness by packaging deals together! That is as brilliant as the food color itself : )
Americolor 12 Color SHEEN – PEARLESCENT Airbrush Color Kit .65 Ounce
7. Modeling Chocolate: Easy to make but easier to buy. Choco-Pan Modeling Chocolate has been among the top new products on the market for about 2 years but the sales in 2013 proved to the cake decorating community that this item is Sizzling Hot for the serious cake artists that need stability and uniformity while modeling their works of art from chocolate. There are different pail sizes to select from as well as flavor profiles and colors including a flesh tone color.
Choco-Pan Modelling Chocolate – Dark – 4 lb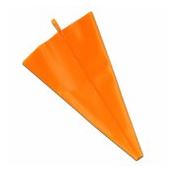 8. Silicon Pastry Bag by Fat Daddio's: Silicon Pastry bags have totally taken over in sales. Cake decorators and Pastry chefs are now using the easy to clean and long lasting silicon bags and for a good reason. The silicon pastry bags wont seep like the canvas ones do and won't bust like parchment paper tends to do. I personally use only silicon pastry bags for everything besides piping gel. The reason is because I use such a small amount of it and it's just easier to use the parchment for that application. Otherwise it's Silicon all the way especially for figure piping. The Silicon bags are Orange and come in many sizes. I happen to like the orange color. It's just, well… Happy!
Fat Daddio's 15-3/4-Inch Silicone Pastry Bag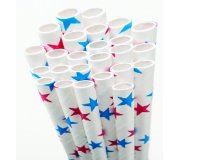 9. Aardvark Paper Straws: That's right, these food safe colored paper straws hit it big with cake pop makers. This particular company sent us samples to test ourselves and to prove to us that they would hold cake pops beautifully. They passed the test with flying colors. Literally! Tons of great colors and prints to choose from. We have seen them used in them cakes and cupcakes as well as cake push pops. They are super cool and we just love that extra bit of pizazz they give.
Aardvark 61520014 Paper Drinking Straw, 7/32″ Diameter x 7-3/4″ Length, Red and Blue Stars (8 Boxes of 600)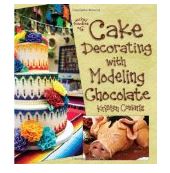 10. Cake Decorating with Modeling Chocolate Book: We couldn't list a top ten without at least hunting down one of the top sellers in the books category. Fondant is not out the door but Modeling Chocolate definitely Rocked the Professional Cake World in 2013. This great educational and training book is getting some rave reviews on it. We love to see new books on our favorite subject come out especially when they have colorful pictures and step by step instructions. This book hands you some new creative ideas on a silver platter and give us all something different that fondant. Yay for this author! We hope she sells the hell out of them.
Cake Decorating with Modeling Chocolate
We hope you enjoyed our list for 2013 on the hottest cake decorating supplies!
Feel free to share this with your friends and check back for our finds for 2014!