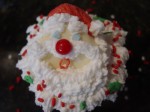 Yummy White Chocolate Santa Cupcakes!
Alright gang, this Santa cupcake is a 4 step process. It does take some time to do them but the cupcakes are flipping delicious.
The process used here to decorate these Santa cupcakes are pretty much the same process used in the mini butterfly cupcakes dipped in chocolate.
These . . . → Read More: Santa Cupcake Dipped in White Chocolate