The Push Pop Cake Ideas are flowing through Google Images like crazy now!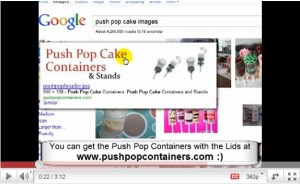 I have been on a push pop cake mission to find push pop cake ideas for the past few weeks and found so many. Everything from cute and whimsical to upper end ideas using the push pop containers.
Most of the ideas using the push pop cake containers are from many of our subscribers showing off their twist on the push up cakes.
I also found that high end chefs are jumping in on creating works of dessert art using the plastic push pop containers. One really creative chef used the containers for cheesecake and topped it off with a spun sugar topping.
So, I put together a quick video to show you all how to find the push pop cake image gallery using the Google image search. Most of you may already know how to use it but just in case you don't here's the YouTube video.
You will also see the website that sells the push pop cake containers and stands.
Make sure you leave a comment or better yet, sign up to be a featured artist and send in your push pop cake pictures so we can share them with our Facebook family of cupcake idea lovers.
Push Pop Cake Video
Related articles On Push Pop Cake Ideas: