Wondering how to make chocolate cupcake and dessert toppers?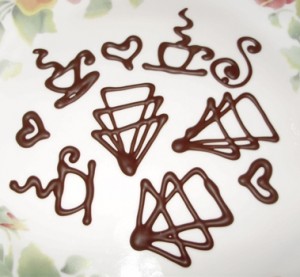 These Chocolate toppers are really quite simple to create.
Whether you are using a high grade coating chocolate or good ol' fashioned chocolate chips, you can make wonderful works of chocolate art with melted chocolate, a sheet of wax paper or parchment paper and a pastry bag.
Even a plastic baggie will work for this if you do not have a pastry bag or parchment paper.
When melting chocolate it is best to use a double boiler verses the microwave.
While you can certainly use your microwave, you will be taking a risk of burning your chocolate.
I personally use the Wilton Melting Pot. It is perfect for two reasons.
It has two temperatures on it and I can change out colors of chocolate quickly. Although it comes with its own pot, I do not use the pot, I use glass bowls to put my chocolate in. I also put a small amount of water in the bottom of the actual melting unit.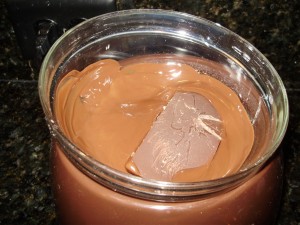 The glass bowls I use are 6 inch bowls. Be certain to not let the bottom of your bowl touch the water. This can cause your chocolate to scald. Not a good thing!
I turn my pot on high to get the chocolate melted and then I lower the temp for about 5 minutes. After that, I will remove the bowl from the melting device and let the chocolate temper just a bit. This helps keep the chocolate from being too runny when you are ready to start creating your topper designs.
You can get the Wilton Chocolate Pro Electric Melting Pot

on Amazon or at most craft stores.
Video On How to Make Chocolate Cupcake and Dessert Toppers:
Want More Great Ideas Sent To You?