Kimberly McAfee: "Featuring The Superstar Cupcake Faces"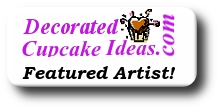 How cute are these little Super Star Cupcakes?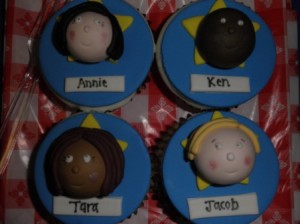 I love the detail in the faces, the rosey colored cheeks really set them off and the fondant stars behind the faces are just terrific, giving each name and person attached to the names validity of being a super star!
You will notice in her instructions that she used a 50/50 mix of gum-paste and fondant.. Very cool!
Kimberly McAfee has a great future ahead of her with her cupcake art. We will certainly be seeing more of her work right here on Decorated Cupcake Ideas 🙂
Here's How She Created The Superstar Cupcakes:
Instructions:
Hello Fellow Cupcake Lovers!
I made these "Superstar" cupcake toppers with a 50-50 gumpaste and fondant mixture (Satin Ice is my fave!  Yum!).  I live in notoriously humid Georgia, so this mixture is what I usually work with for toppers/figures.
I used cookie cutters from Wilton's 101 Cookie Cutter Set to make the base and star "frame."
For the name tags, I rolled out a little fondant/gumpaste with a small rolling pin and cut-out small rectangles using a pizza cutter.
The faces and features are all rolled by hand.  I made indentions for the eyes and noses with Wilton's 10 Piece Fondant/Gumpaste Tool Set, but a plain-ole toothpick would work great as well!  I then used a small brush dipped with water and then brushed the inside of the identions I just made; this will make sure those little features stay put!
The mouth is made using Wilton's Tip #12.
The eyes, eyebrows/eyelashes, and names were written with black edible marker.
Last but not least, the rosy cheeks are courtesy of Wilton's Orchid Pink Pearl Dust and a small brush.
The cupcakes are banana with cream cheese frosting.  They would be a really creative place setting for a dinner party or a super-fun treat for a birthday extravaganza!
Kimberly McAfee's Story:
I have been decorating cakes/cupcakes for a little over a year.  I started taking cake decorating classes through a local college and was hooked!   I watch all of the cake shows religiously and after years of saying "I wish I could do that," I'm actually doing it!  I'm practicing tons so I can one day achieve my dream of becoming a professional cake artist.
Kimberly, Your on your way my friend to going pro as a cake artist….
Show our newest "Featured Cupcake Artist" Kimberly McAfee some cupcake love and visit her on>> FaceBook <<
You can also visit her website at: http://cakestarkimmy.blogspot.com/
Want More Cupcake Ideas?