The Cornucopia Cupcake is Cupcake #1 in…
"The 25 Days of Christmas Cupcakes Challenge!"
I chose the Cornucopia cupcake since we are still about a week before Thanksgiving. It seemed appropriate.
This cornucopia cupcake topper is made with fondant and a whole lot of love!
Keep your eyes peeled because I will be showing you how to figure pipe a cornucopia cupcake as well. 🙂
The skill level on this is set at medium. The Cornucopia fondant cupcake topper is a bit more time consuming but the rewards are a beautiful cupcake you can use as a dinner table center piece. I love them and your family will love you for making them! Let's get this Horn Of Plenty going!!!
What You Will Need:
Fondant
Pre Baked Cupcakes
Cupcake Liners
Cake Decorators Icing ( just a small amount)
Toothpick or Wooden Skewer
How To Make The Cornucopia Cupcake Toppers:
Start by pre-coloring your fondant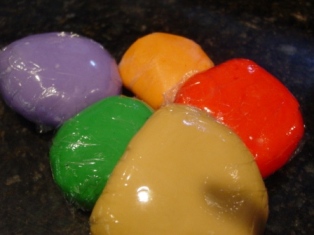 Here I used, golden brown, green, orange, red, purple and yellow colored fondant. the yellow is not in the picture. You just need a small amount. You will also want white fondant for the base. This way the colors of the cornucopia really pop!
Next; grab a pre-baked cupcake… I used these really cool gold color cupcake liners on these. They are heavy weight and so pretty.
Top coat your cupcake with cake decorators icing and then place a round piece of white fondant on top for the base.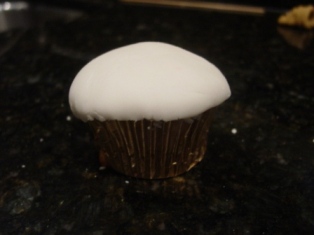 Next; using the golden brown colored fondant, roll out a long rope for the cornucopia.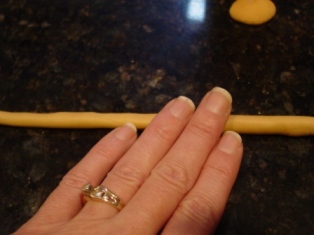 When your fondant rope is just about 6-7 inches in length, start creating the cornucopia starting at one end of the rope, creating a small and gradual increase in size.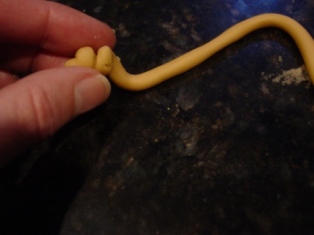 Continue this technique until you get the desired size you want.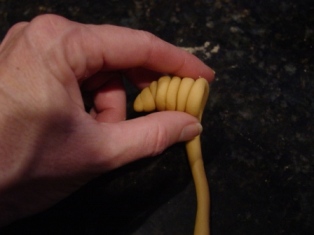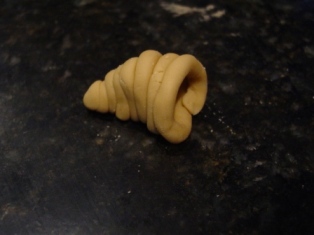 Place your beautiful cornucopia on top of the fondant covered cupcake using just a bit of water to secure it.
Next; start creating your fruit to fill your cornucopia with. It's best to start with the orange since it is the largest aside from the poinsettia.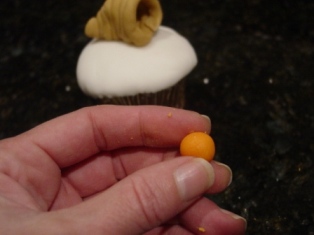 Place the fondant oranges around the mouth of the cornucopia and on the side. Then start creating your grapes by rolling out tiny purple fondant grapes.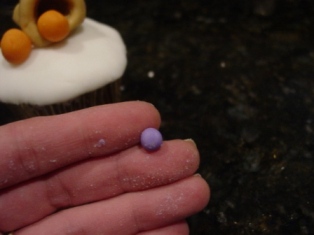 Roll out a vine using your green colored fondant. Place the green fondant vine on the cupcake so you will have a place for your fondant grape cluster to hang out:)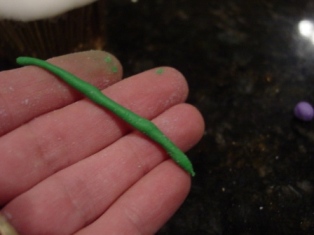 Using a toothpick or wooden skewer, start placing your fondant grapes on the green fondant vine.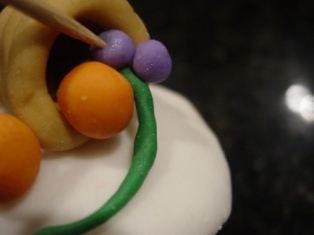 Continue clustering your grapes on the vine and some on the side of the cornucopia.
Start creating your poinsettia using the red fondant. To do this create diamond shapes as shown. Make four poinsettia leafs for the bottom and four more smaller ones and layer them on top. Use the yellow fondant for the center of the poinsettia.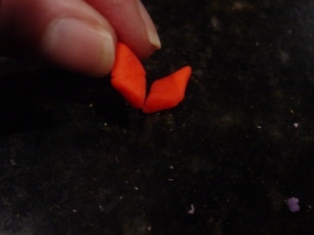 Place your poinsettia on the cupcake in front of the cornucopia using a wooden skewer.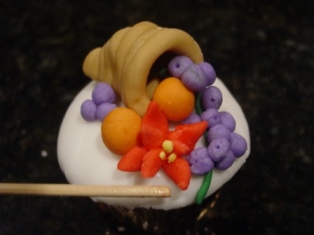 Create small green fondant leaf's to fill in the gaps. And viola! you are done…
Enjoy making these works of cupcake art.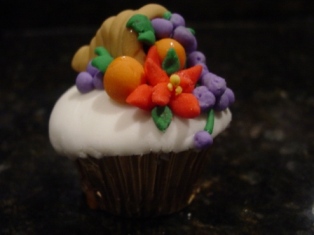 To View Cupcake # 2 in "The 25 days of Christmas Cupcake Challenge" Go Here: Christmas Tree Cupcake Figure Piped
Want More Great Ideas?