These chocolate cupcakes with coconut chocolate cherry filling are sinfully tasty…
The filling is made from flake coconut, chocolate covered cherries and Karo syrup. The icing on these cupcakes is our cream cheese icing topped off with flake coconut and Hershey chocolate syrup drizzled on them for the finishing touch.
They taste a lot like a mounds candy bar with a hint of cherry flavor.
I will warn you, these are hard to stop eating. I am really glad I got the pictures taken before they were all gone!
They are simple to make and are an absolute hit for those that love chocolate, coconut and cherries.
Coconut Chocolate Cherry Cupcake Recipe
Ingredients:
Chocolate Cake Mix
Eggs
Oil
Flake Coconut
Chocolate Covered Cherries
Hershey's Chocolate Syrup
Karo Syrup
Cream Cheese Icing
Instructions:
Prepare Coconut Chocolate Cherry Filling and set aside.
Coconut Chocolate Cherry Recipe
Mix together:
4 cups flake coconut, 4 chocolate covered cherries and 1/4 cup of  Kyro light corn syrup. You may need to add extra corn syrup if you want a more wet consistency for your filling.
Note: you can make the filling ahead of time and refrigerate in an airtight container it you like 🙂
This will stay good for about a week without crystallizing.
Fill Chocolate Cupcakes Before Baking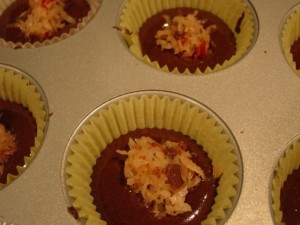 Pre-heat oven to 350 degrees.
Mix chocolate cake batter per instructions on chocolate cake mix box.
Line your cupcake pan with fluted cupcake liners.
Fill each cup approximately 3/4 to the top of the liner.
Drop approximately 1/2 tablespoon full of the coconut chocolate cherry filling into each cup of chocolate cupcake batter.
The amount of filling you choose to use is up to you of course. This is just a guideline of what is recommended.
Pour just a bit more of the chocolate cupcake batter over the filling mixture just to cover it.
Bake for approximately 15 minutes or until cupcake batter springs back to touch.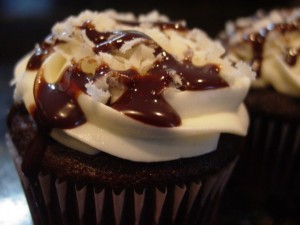 After cooling your cupcakes, finish off with cream cheese icing .
Decorate with flake coconut and Hershey's chocolate syrup!
For more great decorated cupcake ideas, check out the rest of the site…
Related articles by Zemanta