The Reason For The Season: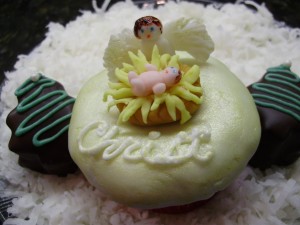 This cupcake was made in honor of our lord and savior Jesus Christ. I mean, this IS what  Christmas is all about right?
I had a lot of fun making this but also was continually reminded as I was doing my best to craft the baby Jesus and Angel figure, of what this celebratory day is and how grateful I am to have a life filled with guidance and peace through Christ.
I refrained from doing a full photo shoot on this as I was consumed and focused on the creation of it. I can only imagine that it was this type of focus God gave when he created our magnificent world and all that is on it.
This past Sunday at church, our pastor Andy Stanley summed up the reason for the Christmas celebration and the true meaning of the day.
This is a glorious and amazing story about life, love and forgiveness.
"Because you are sons, God sent the Spirit of his Son into our hearts, the Spirit who calls out, 'Abba, Father.'" (Galatians 4:6)
Here's something really cool that I did not know until last week. When Jesus prayed to God, he called Him" Abba."
The word "Abba" translates to a child who is calling his Father, Dad or Daddy in the Aramaic language. That's intense! Just thought you all might enjoy that bit of history:)
Alrighty then, I will do my best to get a full photo shoot on how I made the baby Jesus and Angel cupcake toppers.
I used rolled fondant to do them by hand and just a bit of food coloring.
Merry Christmas All!
Want More Great Cupcake Ideas?