These apple cupcakes are so delicious. I used an apple cake recipe handed down to me from my mother Grace.  The apple cake is rich in flavor and is perfect for fall and winter deserts. I think the recipe is great any time of year but the smell of caramel, apples and cinnamon always go hand in hand with the fall and winter holidays.
These are perfect for Halloween, Thanksgiving and Christmas. Of course I could eat these yummy treats every day of the year!
You will notice that this cake batter will be much more dense than regular cake and cupcake batter." I mean really dense."
The icing is a cream cheese icing that so simple to make.
Apple Cupcake Recipe
Ingredients:
Granny Smith Apples: 3- 4 medium sized, peeled and diced.
Eggs: 3
Sugar: 2 cups
Vegetable Oil: 1 cup
Flour: 2 cups
Cinnamon: 2 teaspoons
Baking Soda: 1 teaspoon
Salt: 1/2 teaspoon
Vanilla: 1 teaspoon
Cream Cheese Icing
Caramel Apple Dip
Instructions:
Pre-heat oven to 350 degrees
In large bowl, mix the flour, cinnamon, baking soda and salt.
Add in eggs, sugar, oil and vanilla.
"The batter will be very thick and dense."
Add peeled and diced apples by folding them in to the cake batter.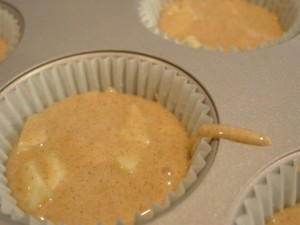 Line your cupcake pan with fluted cupcake liners.
Fill each cup approximately 3/4 to the top of the liner.
Bake in 350 degree oven for approximately 12 minutes. Because oven temperatures vary, make sure you set your timer
and check on them at about 12 minutes. Your particular oven may take longer. I have found that in different altitudes these
can take up to 16 minutes. Just keep an eye on them.
They should look like this when you are ready to pull them from your oven.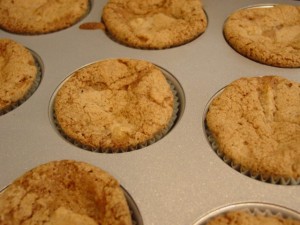 The tops should be just a bit crackled and firm to the touch.
Talk about texture!
Cream Cheese Icing Recipe:
Caramel Apple Topping:
To top off your apple cupcake, simply cut thin slices of Granny Smith apples.
Lay one slice on top of your iced cupcake and piped caramel apple dipping sauce over the apple slice. I personally favorite the
T. Marzetti Old Fashioned Caramel Apple Dip.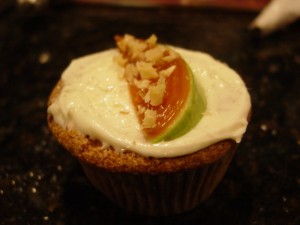 Embellish the caramel covered apple slice with chopped walnuts or anything you like 🙂
Related articles on Caramel Apples