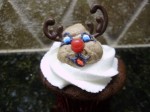 Rudolph The Red Nosed Reindeer Would Approve of This Cute Reindeer Cupcake:
This little reindeer cupcake is figure piped from tasty cake decorators icing. It sports chocolate antlers and is just a great Christmas cupcake to set the stage' for Santa and his sleigh.
His big red nose is made from hot tamale candies and . . . → Read More: Reindeer Cupcakes With Chocolate Antlers!