Why I personally choose Americolor and Chef Master:
Don't get me wrong here, I do use some Wilton food coloring when I absolutely have to. Wilton has a great product but fails when it comes to certain colors such as black and red.
The amount of food color that you have to use to get a decent rich color in either buttercream or professional cake decorators icing is just too much and ends up costing way more in the long run.
The Wilton food coloring is fine for fondant but not for much else.
Americolor and Chef Master food colorings holds the color longer and the amount you have to use is much less. I just feel better about it when I know the amount of food coloring is lower in my products.
Americolor is noted as the culinary choice when it comes to food colorings.
Americolor Soft Gel Paste Student Kit- Culinary Academy 1st Choice!
Another good choice and my personal top pick is Chef Master.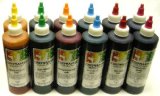 Chefmaster Liqua-Gel Variety Pack, Twelve 10-1/2 Ounce Bottles (6 Colors, 2 of Each)
When it comes to cake decorating and the colors I use for my icing, hands down I will always choose Chef Master.
Chef Master food colors are rich and vivid. The product is stable, easy to use in the squeeze bottles and a little goes a long way.  With Chef Master you get a much higher yield. I have used the Chef Master food colorings for many years as a professional cake decorator. I will also note that most large bakery chains use this product as well.
The black will not turn that yucky purple color you get with the Wilton black and the red hold true to a deep beautiful red not a half baked pinkish red but a red red. Also, when you buy in bulk you can get a bit better of a price.
Want More Great Ideas?