This Authentic Tres Leches Cake recipe is for those of you that want the real deal when it comes to baking the very best Tres Leches Cake you can imagine.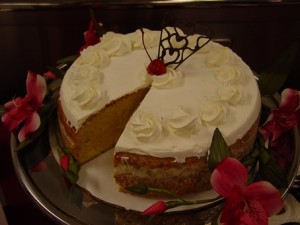 Ingredients For Tres Leches Cake:
2 Cups Flour
1 Tablespoon baking powder
1 Teaspoon Salt
7 eggs
1 Cup Sugar
3/4 Cups Milk
2 Tablespoons Vanilla
Tres Leches (Three Milks)Mixture:
13 oz Sweetened Condensed Milk
14 ounces Evaporated Milk
1 Cup Cream
Tres Leches Cake Procedure:
Pre heat oven 375
grease 2-9inch or 1 1/4 sheet pan
Blend flour baking powder and salt in small bowl and set aside
Separate the 7 eggs. Put the egg whites in a large mixing bowl and the yolks in a separate bowl.
Mix the egg whites until soft peaks form. Slowly add the flour mixture.
Add the sugar vanilla and egg yolks, mixing in the egg yolks one at a time.
Beat for one minute.
Note: it is best to use your wire whip for this as it will help with creating the air pockets you want to achieve.
Pour batter into baking pans and bake for approximately 25-30 minutes.
While your cake is baking, mix your three milks in a blender or by hand with a whisk.
Remove cake from oven and poke holes in the hot cake with a skewer or fork. Begin pouring your tres leches ( 3 milks ) mixture over the hot
cake. Let it keep soaking down. You will want to do this slowly in order to let the cake absorb the milks.
Refrigerate for a few hours and then top with cream.
Here's another great version of the Tres Leches Cake!
Want more great ideas sent to your email?