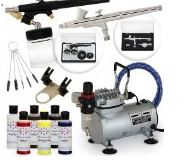 If you've been sitting on the fence over which cake decorators airbrush kit is the right choice, then keep reading.
Cake Decorator Airbrush kits can range from fifty bucks to right around three hundred and fifty dollars.
I myself have used several different airbrush guns and compressors for my cake decorating needs over the years and have found that some of them just are not worth investing in.
I have used some really bad airbrush kits and have also used the top notch airbrush compressors and airbrush guns. The problem with the small compressors is that they burn out pretty fast if you are using airbrush designs on your cakes and cupcakes daily.
You should also keep in mind that less expensive compressors and guns can cause spatter and spitting of your food coloring. This really sucks if you are in the middle of creating artworks such as portraits or other designs on your cake. One glitch in the compressor or the gun and your work is ruined and you have to find the best way to fix it or completely start all over again.
In this article, I have posted my personal top 3 as well as the top 3 rated cake decorators airbrush kits. The rating is based off of my own personal use of both the airbrush guns as well as the compressors. The rating is also from others that have purchased at least one of the top 3 listed here.
I also researched the ratings based on amazon customer reviews on timely shipping as well as customer service from the companies that are offering the airbrush kits. I also narrowed down the best deals by pricing and the package deal as a whole.
What To Look For When Considering A New Airbrush and Compressor For Airbrushing Your Cakes, Cupcakes and Pastries: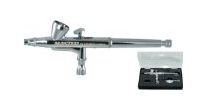 Your airbrush gun should be high quality with sturdy parts including the needle, the compressor hose and the trigger. 0.3mm needle as well.
Your compressor whether it is a small one for home use or an industrial compressor should be high quality as well. The best compressors will have an Air Regulator w/Gauge & Water Trap Filter.
Airbrush Colors are just as important. I personally like the Amerimist or the Kroma Color Airbrush food colors for airbrushing work.
Here Are My Top 3 Rated Airbrush Kits For Cake Decorating:
Air Master by Kopy Cake: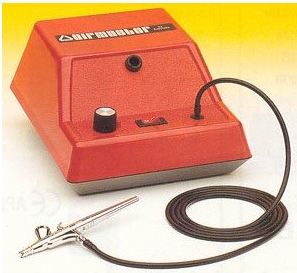 Don't let the size of this compact air compressor by Kopy Cake throw you off. I have used this model throughout the years in many different locations across the United States while creating airbrushed cakes for Grocery Store bakeries for their Grand Openings and Remodels. It is easy to work with and is light weight. It is a bit pricey but is worth the cost. You do not get all the extra goodies that the other two airbrush kits in this review give you but still is a very good choice.
Click To View
>>Kopy Cake "Air Master" Airbrush Machine for Cake Decorating – With Airbrush<<
TC – 20T Air Compressor with Airbrush Kit: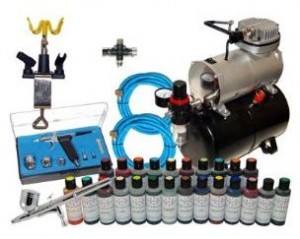 The TC-20T Air Compressor with the airbrush kit including dual hose and airbrush gun attachments along with 24 airbrush food grade colors from Amerimist and gun case is one heck of a deal shown here.
The ratings on this airbrush and compressor kit are fantastic from those who have purchased this item from Amazon. The compressor is high quality and has the pressure gauge so you can dial in for thin line work.
Click To View
>>Cake Decorating Airbrush Kit with 24 Amerimist Food Colors and TC-20T Air Compressor<<
Tc-20c With 12 Amirimist colors and dual action gravity feed.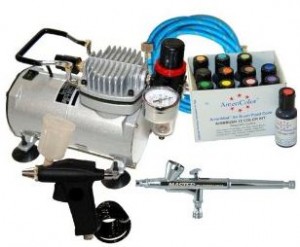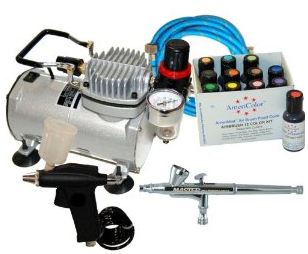 Master Airbrush Brand Model G34 Precision Dual-Action Gravity Feed Airbrush
Master Airbrush Brand Model G70 Universal Precision Trigger Style Gravity Feed Airbrush
Airbrush-Depot Brand Model TC-20 Maintenance Free Air Compressor
12 – 0.7 oz. Bottles of Americolor Brand AmeriMistTM Airbrush Food Colors
This is a great set up for both home and on location use for all of your airbrushing needs. This kit does not have all the bells and whistles included as the larger kit above but will certainly get the job done. The pirce is great at $129 bucks. The reviews are also really good on this kit.
Click To View
>>CAKE DECORATING AIRBRUSH KIT, 12 -0.7 Colors with Air Compressor<<
So what's my personal pick from the top 3 listed here?
For the money I choose #2 listed here. It is the best bargain with the most value added to it. It's mid priced and well worth the investment. Although they are all great choices depending on your personal needs, this is just the package I would choose if purchasing for the first time.
>>>Cake Decorating Airbrush Kit with 24 Amerimist Food Colors and TC-20T Air Compressor<<<
If you have a comment to leave on your choice for for cake decorating aribrush kits or have any questions about them, please share in the comment box below! 🙂