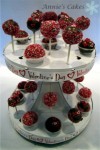 Oh the Valentine Cake Pops around here!
Annie Hockenberry shows off here style and detail in packaging her beautiful Valentine cake pops.
I love how she arranged the cake pops on the stand with the Valentine ribbon wrapped around the outer edges.
Annie is one heck of a cake pop super star..
I took . . . → Read More: Valentine Cake Pops By Annie Hockenberry