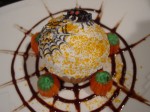 This spooky spider cupcake is perfect for Halloween!
The cupcake is orange flavored and the icing is made with our professional cake decorators icing recipe.
The cute but spooky little eight legged crawler's body is made from a junior mint so you can eat him before he bites you! Muahahaha..
What you will need to . . . → Read More: Halloween Spider Cupcake