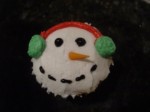 Super Easy Snowman Cupcakes!
This cute snowman cupcake is super easy to create.
All you need are some cupcakes, cake icing, black piping gel and a bit of humor.
The nose for this easy snowman cupcake is made from orange colored fondant but you can use regular cake icing if you prefer.
These snowman . . . → Read More: Easy Snowman Cupcakes