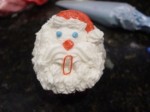 The Figured Piped Santa Cupcakes are # 3 in…. "The 25 Days Of Christmas Cupcakes Challenge"
Santa Would Be Proud, But I wouldn't leave these for him on Christmas Eve..
These jolly Santa cupcakes are easy to do. I give them a skill level of
SUPER Easy…
The Santa head is . . . → Read More: Santa Cupcakes Figure Piped!