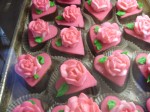 //
When it comes to Petit Fours my all time favorite place to buy them is from the Great Dane Baking Co. in Huntington Beach, Ca.
Shown here are the heart shaped Petit Fours with butter cream roses on top. The cake is almond cake and is amazing.
Each bite of the delicious tiny . . . → Read More: Petit Fours From Great Dane Baking Co.