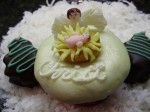 The Reason For The Season:
This cupcake was made in honor of our lord and savior Jesus Christ. I mean, this IS what Christmas is all about right?
I had a lot of fun making this but also was continually reminded as I was doing my best to craft the baby Jesus and Angel . . . → Read More: Baby Jesus and Angel Cupcake.