Stater Brothers Bakery hits it big with it's Jumbo Cupcakes! As always I keep my handy dandy camera on me were ever I go. During my last visit to my home state of California, I took my mother to do some quick grocery shopping at her local Stater Bros. in Wildomar, Ca. For those of you that are wondering where the heck is Wildomar? It's in Southern Ca. in Riverside county just between Corona and San Diego.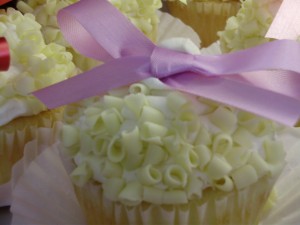 Shown in these two pictures are the Jumbo Cupcakes located in the Stater Bros Bakery display case. I was pretty impressed with these. I personally would have made the ribbon on top a bit smaller but hey; that's just my own personal preference.
All in all, these jumbo cupcakes are really nice for any occasion.
I have to say I really loved how friendly the store staff was while I was snapping the shots of the cupcakes.
The store manager saw me clicking away with my camera and walked up to me to ask if I needed any help. I thought he was going to ask me to stop taking the pics but instead he lifted the display case window so I could get better shots without the glare of the bakery display case glass from the lights shining on it. Too Cool!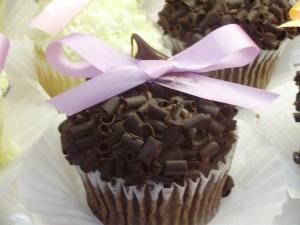 Want to make your own chocolate curls for your home made cupcakes?
Here's a quick video to show you how to make chocolate curls:
Awesome Book On Working With Chocolate!
Chocolates and Confections: Formula, Theory, and Technique for the Artisan Confectioner
Want More Great Cupcake Ideas Sent To Your Email Address?

Related Articles on Stater Bros. Bakery:  
Stater Bros. Announces Purchase of Lake Elsinore Albertsons Location NEW Full Service Hot Bakery featuring freshly baked La Brea Artisan breads as well as specialty cakes and fine desserts. The NEW "Blue Ribbon" Stater Bros. Lake Elsinore Supermarket will also include many environmentally friendly and … Publish Date: 03/18/2011 14:30 http://beststockpicks.biz/pre-market_trading_alerts/stater-bros-announces-purchase-of-lake-elsinore-albertsons-location.html/
News Flash: LaBrea Bakery Bread now at Stater Bros. Every time I have been to the Garey Ave Stater Bros, for the past 2 weeks, they have had La Brea Bakery bread. Yahoo! This is different than before, when they only carried it intermittently because they thought people in Pomona wouldn't … Publish Date: 07/17/2006 11:27 http://www.goddessofpomona.com/2006/07/news-flash-labrea-bakery-bread-now-at.html